Moore Theatre | Seattle, Washington
The beloved and hysterical revived show Mystery Science Theater 3000 comes to Moore Theatre on Saturday 18th January 2020 for a live performance you'll nver forget! Join the show's creator and previous star Joel, as well as Jonah, Tom, Crow and Gypsy, as they riff on some of the cheesiest movies ever to grace our screens!
"This is our third national tour, and it's bigger than the first two combined! I really wanted to do something special since it's my farewell tour with MST3K Live. Also, Tom, Crow, and Gypsy have become such great live performers, I decided to give them the ultimate challenge: a movie riffing robot circus!" says Joel.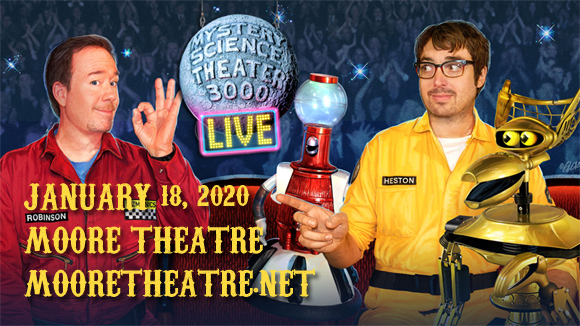 Created by, and originally starring, American writer, comedian and television actor Joel Hodgson, Mystery Science Theater 3000 an American television comedy series that premiered on KTMA-TV (now WUCW) in Minneapolis, Minnesota, in 1988. The show's initial premise was that Joel (whose surname was Robinson in the original series) was a janitor who had been trapped by two mad scientists (known as "mads") against his will and forced to watch B-movies as a part of their evil plot to destroy the world. Joel created several robots to keep him company and together they would provide humorous running commentary throughout the movies. The program was picked up by The Comedy Channel/Comedy Central, where it ran for seven seasons until its cancellation in 1996. It aired for another three seasons on The Sci-Fi Channel until it was cancelled again in 1999, but in 2015, Hodgson crowdfunded a revival. The show began airing again on Netflix in 2017, and the cast currently consists of Jonah Ray as the new human test subject (known in the show as Jonah Heston), Felicia Day and Patton Oswalt as the "mads", and Baron Vaughn, Hampton Yount, and Rebecca Hanson as the "bots". The live show features Jonah and the "bots" riffing on a movie in front of a live audience.