Moore Theatre | Seattle, Washington
Due to 'brighten' up the concert lights and setting the stage ablaze in 2022 is none other than guitar god Jerry Cantrell. One of Alice in Chains' main men, Jerry Cantrell has ventured out on his own for now for a concert tour in support of his brand new solo album "Brighten". "I'm pleased to announce that I will be taking my new album, Brighten, on the road in Spring 2022," Cantrell revealed recently, announcing tour dates that include this gig at the Moore Theatre on Monday 2nd May 2022. His multi-platinum selling album track record with Alice In Chains has deemed Cantrell as a living legend, often cited as a vital force that influenced multi-generational rock musicians, as well as forming thriving loyal fanbases all over the world. Don't get stuck in the doom and gloom, step out into the light and book your tickets now!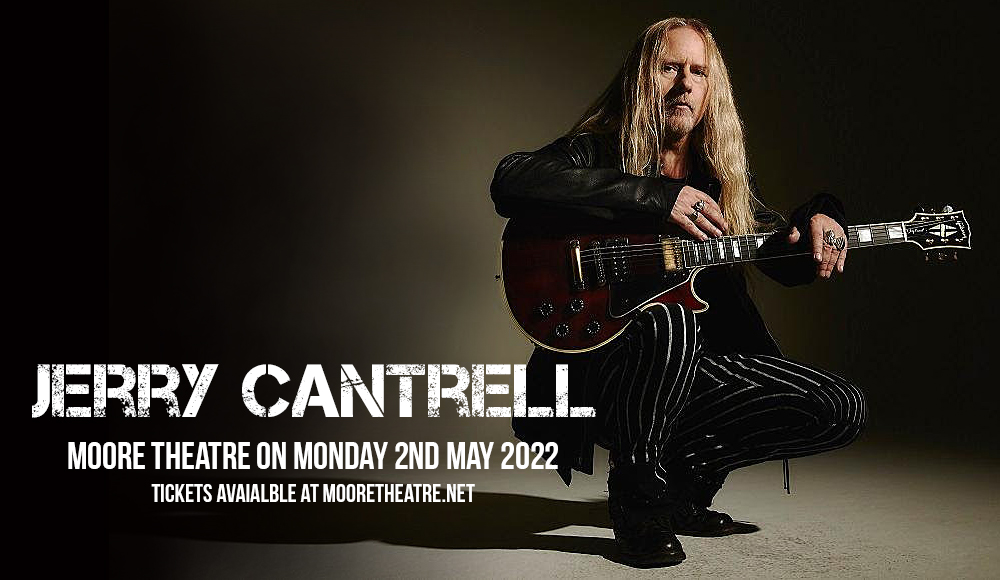 One of the creative and powerhouse forces behind the hard – grunge – metal rock luminary Alice in Chains is its main man — founder, lead guitarist, co-lead vocalist, and main songwriter, Jerry Cantrell. The band became one of the prime movers of the grunge rock movement in the 90s.
In 1998, Jerry Cantrell ventured out on a solo project with the release of his first solo album "Boggy Depot"; then followed by his 2002 double CD album release, "Degradation Trip". Be it solo or in a group, Cantrell is one of those grunge musicians who has managed to demonstrate that his artistry is a cut above the rest. British hard rock/metal magazine Metal Hammer in 2006, gave him the moniker "riff Lord". And true to this nickname, Cantrell received more citations as Guitar World Magazine ranked Cantrell as the 38th out of "100 Greatest Heavy Metal Guitarists of All Time" in 2004, and the 37th "Greatest Guitar Player of All Time" in 2012. Cantrell's guitar solo in "Man in the Box" was also lauded by Guitar World listing it at No. 77 on the "100 Greatest Guitar Solos" in 2008.
"Brighten" will be Cantrell's first solo outing since 2002, that he would be taking along on this 2022 tour; and with this Cantrell says: "Looking forward to rawking out with you all."