Moore Theatre | Seattle, Washington
If the past year or two has been quite of a letdown, this year is set to bring in more surprises with "The Unfortunate Return of the Ridiculously Self-Indulgent, Ill-Advised Vanity Tour" by no other than Weird Al Yankovic. The tour is making a pitstop at Moore Theatre on Tuesday, June 28, 2022. It's time to sing and laugh out loud with the crowd to Yankovic's memorable hit parodies such as "Smells Like Nirvana", "Eat It", "Like a Surgeon", "Fat", "White & Nerdy", and much more! Throughout decades, Yankovic has lifted up listeners' spirits with his parodies and polka medleys that feature and are inspired by other artists' notable work. Yankovic has made audiences giggle and laugh out loud with his unique and alluring take on creating parodies. They do say laughter is the best medicine, so book this appointment with the one and only Weird Al Yankovic to laugh and sing along with the crowd. Book your tickets now!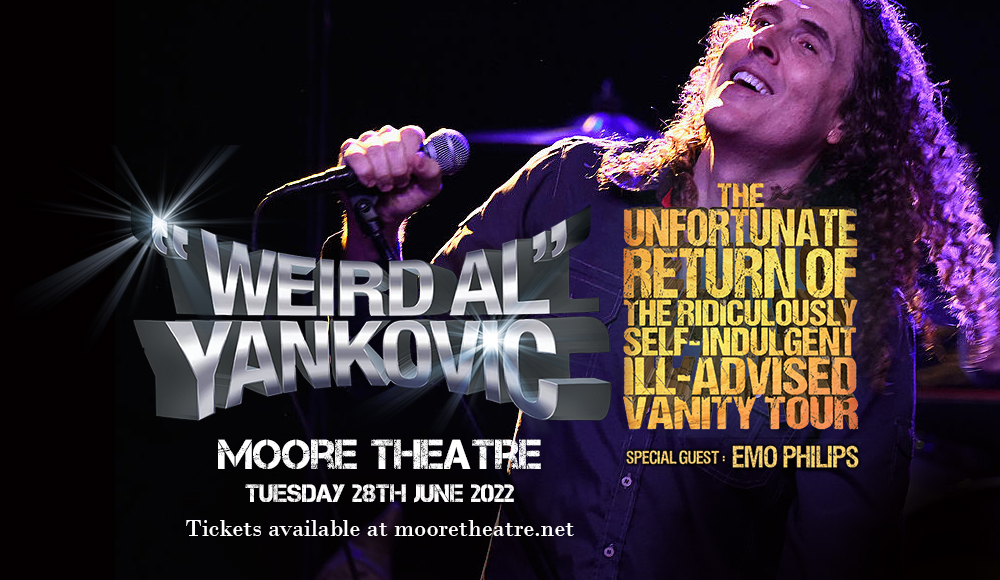 Weird Al Yankovic scored his first record deal upon the release of his debut parody single "My Bologna", a parody of The Knack's "My Sharona". He owes his career to the comedy radio personality, Dr. Demento, whom he sent his debut single to be played on the radio in 1979.
By 1981, Yankovic was featured in Dr. Demento's stage show tour. His parody of Tony Basil's "Mickey", entitled "Ricky" was featured in the then-new TV network, MTV which took a seat in MTV's top 100 videos at the time, to which Weird Al took as a sign to pursue the career of music.
From then on, the man became a notable artist in the music industry throughout decades with his timeless and memorable hit parody of Michael Jackson's "Beat It", named "Eat It" earning itself a gold certification, Madonna happening to wonder when Weird Al would make a parody of "Like a Virgin" into "Like a Surgeon" to which he indeed made, Nirvana's Dave Ghorl saying they felt like they "made it" when Weird Al Yankovic dropped "Smells Like Nirvana", and even Chamillionaire saying "That parody was the reason I won the Grammy, because it made the record so big it was undeniable…" talking about Weird Al's parody of "Ridin", named "White & Nerdy".
Weird Al brought joy and laughter with decades of music across 14 albums and 46 singles. His service earned him 5 Grammy Awards that include "Best Comedy Album", "Best Comedy Recording", and "Best Concept Music Video".
"I've loved doing every single incarnation of my live show, but honestly the Vanity tour is the most fun I've ever had on stage, so I've been dying to get back out there and torture everybody with it once again!" says Weird Al as he is set to embark on "The Unfortunate Return of the Ridiculously Self-Indulgent, Ill-Advised Vanity Tour".
It's definitely a fortunate return as Weird Al Yankovic welcomes the rise of 2022 to become a better year for people across the country. As the saying goes, 'laughter is the best medicine, so get your dose of joy and book those tickets now!