Moore Theatre | Seattle, Washington
Get ready to slay! The "baddest bitch alive", Todrick Hall, is hitting the stage at The Velvet Rage as he channels his electric feminine energy. As the viral YouTube and TV star takes his greatest hits off of his studio records to the live stage, get ready to experience a velvet rage of color through empowerment as he celebrates feminine energy and everyone's powerful voice. Taking fans by surprise as he drops his new album, "Roach Killaz", the superstar is set to share his new anthems and astounding collaborations live on stage, stopping by Moore Theatre on Sunday, 10th of September 2023. His new album features star-studded collaborations with the likes of Bob The Drag Queen, Tamar Braxton, Blameitonkway, Monét X Change, and Tiffany "New York" Pollard. As the queen of Drag, Hip Hop, a hint of Comedy, and a big serving of rage, Todrick Hall is stoked to share his new raging masterpiece, live on stage at Velvet Rage. Book your tickets now!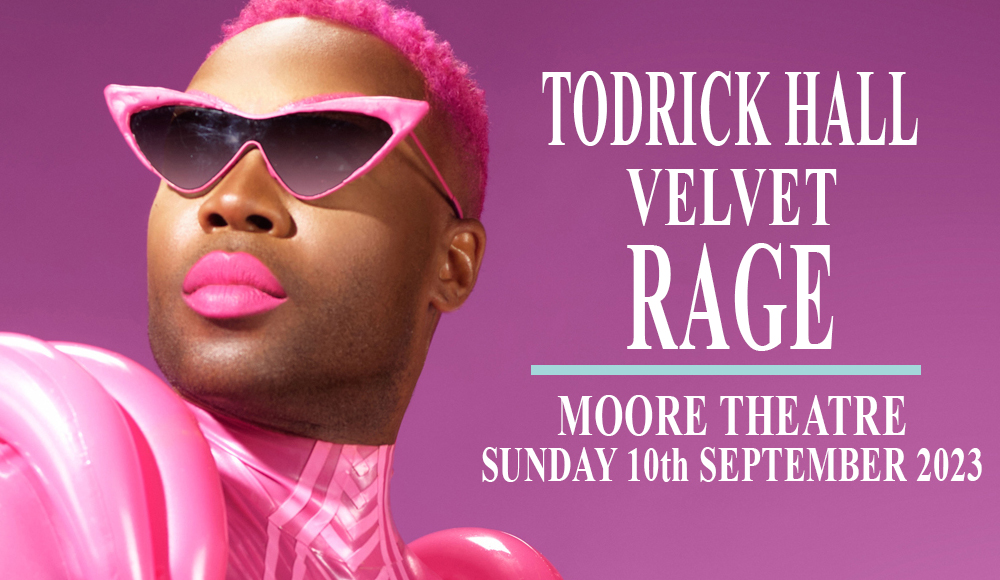 Roach Killaz is here! Todrick Hall is set to slay and rage, dropping his newest album featuring a star-studded lineup of collaborators with the likes of Bob The Drag Queen, Tamar Braxton, Blameitonkway, Monét X Change, and Tiffany "New York" Pollard. The album features his new bangers "Y.A.S.", Roach Killaz", "No Bitch", and "All That Booty". Serving an astounding blend of Drag, hip-hop, comedy, and raging lyrics, Todrick Hall is definitely set to slay and rage at his newest headlining tour, The Velvet Rage.
"This album is the result of what happens when your creativity puts Drag, Hip Hop, Comedy and a little bit of petty resentment for your ex into a blender," the superstar shared. "It's cool but campy, hip and hilarious and I'm really proud of the work myself and collaborators did on Roach Killaz!"
Embracing feminine energy and with a mission of creating music that celebrates empowerment and inclusivity, Hall shared that he "always wanted to create an album that combines different genres, like Dance, Urban, HipHop, Country, LGBTQ+". He continues to share that the record serves funny, quotable, and dance club bangers crafted in his very own style. With a raging tour kicking off, he's stoked to share his greatest hits and new anthems live on stage on the 32-city trek.
"I'm excited to peel back the curtain and show people a more raw and honest part of myself while also delivering the choreography, pageantry and showmanship that helped me gain my fans and followers," he shared about the tour. "This show will cover the entire spectrum of my discography and will be the last pop star tour I do for a while."
Todrick Hall's multi-talent nameplate attributed to his singing, dancing, choreography, directing, and acting skills became amplified as he rose to stardom after his appearance on American Idol. Going viral on YouTube for his parodies, skits, and original songs, a documentary on MTV aired in 2015, sharing the creative process behind the star's success. Hall also became a choreographer and judge on RuPaul's Drag Race. He also starred as Lola in Broadway's "Kinky Boots", and went on to pursue more Boradway appearances in coming years.
With a slew of studio albums celebrating passion, colors, and the LGBTQ+ community, he's amassed a loyal following for his astounding releases including "Straight Outta Oz", "Forbidden", "Femuline", and his hit singles "I Like Boys", "Nails, Hair, Hips, Heels", "Wig", "Bells, Bows, Gifts, Trees", and "Breath".
As a groundbreaking popstar in the scene, Hall explores gender-norm-defying themes that show his growth, and how far he's come from society's notorious bullying and discrimination against the LGBTQ+ community. Recalling how he was hessitatnt to embrace his true self during his American Idol stint, feeling that its producers wouldn't be so thrilled to make "middle American moms feel uncomfortable".
"But then I found YouTube, and now I can do those things on my YouTube channel and be praised for them," Hall shared in an interview with Yahoo Music. "My goal is not to make people feel comfortable anymore."
As Todrick Hall embarks on an unstoppable journey of celebrating everyone's beautiful colors, he's set to throw the biggest Drag-hip-hop-dance party show the world is yet to see at Velvet Rage. Book those tickets now!