Moore Theatre - WA | Seattle, Washington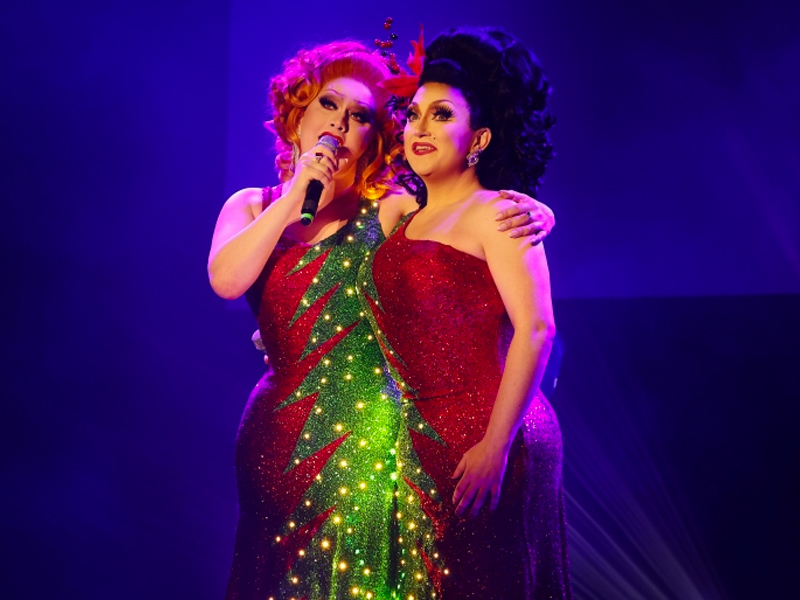 Are you looking to celebrate your Christmas in an unconventional yet fun way? Well, you have come to the right place because we have the perfect show to bring extra fun to your Sunday evening. You are invited to an exciting evening filled with flamboyant screams, loud applause, and holiday cheers. If the idea of drag shows on Christmas excites you, then "The Jinkx & DeLa Holiday Show" at Moore Theatre this December 24 is perfect for you. Yes, you've read that right. The drag superstars Jinkx Monsoon and BenDeLaCreme will bring the intensity and fun of their annual show to Seattle to give joy to all their fans. The duo known for their whip-smart comedy will surely turn Moore Theatre into a haven of music, glitz, glam, and laughter. Tickets for the show are now on sale, and you can reserve yours here by hitting the "Get Tickets" link.
There is no doubt that Jinkx Monsoon and BenDeLaCreme are two of the most iconic drag queens that have come out from RuPaul's Drag Race show. The enigmatic and bubbly personalities of these two queens have captivated the hearts of many fans because, aside from being funny and entertaining, the two queens are relatable and are not afraid to speak their minds. Through their wit, humor, and undeniable talent, both queens have established their names as game-changers in the industry.
Jerick Hoffer, better known as Jinkx Monsoon, won the fifth season of RuPaul's Drag Race. Her fiery nature has made her famous. In fact, she is notorious for being an extremely difficult opponent in the show's snatch games. She is also well known for her witty responses to challenges and roasts of her rival candidates. People will never get sick of her amusing them because of her innate comedic wit and stage presence. On the other side, Benjamin Putnam performs under the name BenDeLaCreme. The drag queen competed on both the sixth season of RuPaul's Drag Race and the third season of RuPaul's Drag Race: All Stars. His many solo shows include "Ready To Be Committed" and "Terminally Delightful." Her popularity on the show was recognized when she was named one of the show's "15 Fan Favorites of All Time." Her charismatic stage presence and exceptional abilities ensure that she always steals the show.
Over the years, the two established a partnership that has taken the drag world by storm. Aside from their individual shows, the two have been teaming up to produce some of the most unforgettable shows and even television specials. The popularity of their annual holiday tour led them to be unintentionally labeled as "Queens of Christmas." Their Christmas pageants, filled with lip-synching and unmatched comedy, became a massive hit among all drag fans.
This year, the duo is back on the road for another holiday tour that will spread holiday cheer once again. The Jinkx & DeLa Holiday Show will arrive in Seattle, Washington's Moore Theatre, on December 24. In an interview, Jinkx Monsoon promises that the show will bring holiday cheers despite what everyone is going through.
"With all the hatred, darkness, and misinformation flying around our world today, it is an honour and a privilege to spend the holidays with tens of thousands of audience members each year, creating joyous community spaces where we can gather strength through laughter and celebration," says BenDeLaCreme. "Whether you consider it the most wonderful time of year or the most troubling, we're here to tell you… you're right! So let's make it our own."
With these statements from the queen herself, fans are in for a magical treat this Christmas Eve. So don't forget to reserve your tickets as early as today. Hit the "Get Tickets" link to start your purchase.