Moore Theatre - WA | Seattle, Washington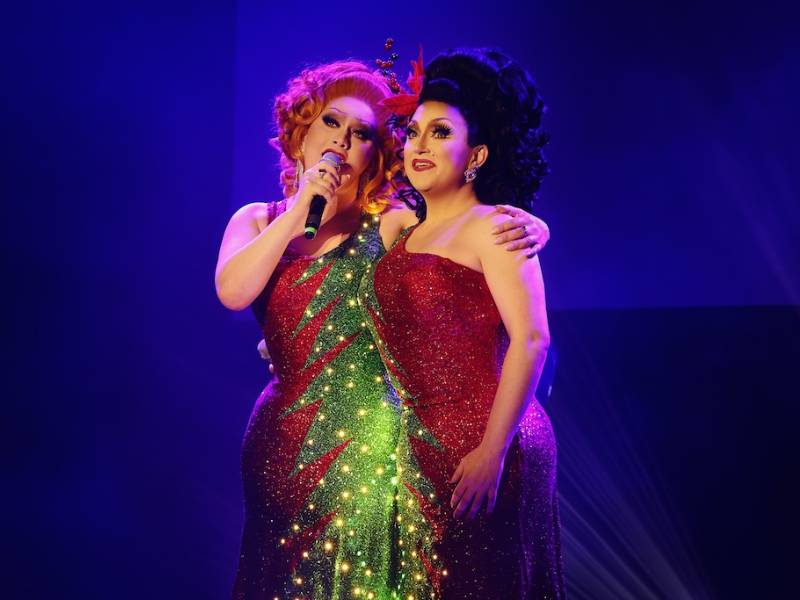 Jinkx Monsoon and BenDeLaCreme are making December 23rd one for the Christmas cards as they transform the Moore Theatre into a frolickingly festive feast of mistletoes and mischief with The Jinkx & DeLa Holiday Show! On the road for their 2023 international tour spanning 30 cities, the RuPaul's Drag Race icons target Seattle, Washington's Moore Theatre, a storied indoor stage offering an intimate backdrop for their yearly winter performance. Directed by BenDeLaCreme and co-written by both, the show promises approximately 2 hours of elaborate costumes, seasonal melodies, and uproarious sketches! Jinkx and DeLa's on-stage dynamic will have you cry-laughing at the absurdity or nodding in agreement to insightful commentary. Long after the ovations fade, you and your friends will still feel the good vibes gifted by the two drag legends. 'Tis truly the season to be jolly! Book your seats now for the Jinkx & DeLa Holiday Show!
It's that time of the year again! The Jinkx & DeLa Holiday Show, featuring BenDeLaCreme and Jinkx Monsoon, comes jingling its way back to our hearts. Call your family and friends to join you at the Moore Theatre on December 23 for a raucous night topped with merrymaking music and rib-tickling antics!
"Every day, artists like Jinkx and DeLa make bold statements with their art and their presence, defying those that would put them down… Every day, BenDeLaCreme and Jinkx Monsoon perform an Act Of Revolution, and good for them. And good for us, too."
The two RuPaul's Drag Race stars' yearly winter show wonder has been spreading love and laughter all around, even sparking a movie adaptation to deafening acclaim! Parading across the UK, US, and Canada for their 2023 holiday tour, the queer legends aim to stop by 30 cities, including Seattle, Washington. Here, audiences can experience this comedy special through the intimate atmosphere and historical stage of the Moore Theatre.
The stars you see on stage are also the minds behind the curtains! The Jinkx & DeLa Holiday Show is produced and directed by BenDeLaCreme, with writing credits shared by her and co-star Jinkx Monsoon. Get ready for approximately 2 hours of your favorite dynamic duo flying through an extravagant wardrobe and prop-propelled sketch acts. Try, if you dare, to match Jinkx's glass-shattering belters or DeLa's wonderful wit for cultural commentary! Seasonal songs, both classic and fresh, abound! Let yourself loose and enjoy the comical company of the undisputed "Queens of Christmas."
Jinkx encourages everyone to take a well-earned break and join them in their annual outing.
"DeLa and I strive to entertain while we enlighten and enliven. The Jinkx & Dela Holiday Show is not only a moment of respite but also of community at a time where we need our chosen family and community most of all. So add us to your holiday plans, or let us be your holiday plans—either way, you're welcome to join us."
Ho-ho-ho-hold off what you're doing and buy your tickets now! BenDeLaCreme and Jinkx Monsoon are visiting the Moore Theatre, Seattle, on Saturday, December 23, 2023, with their LIVE presentation, The Jinkx and DeLa Holiday Show!