Moore Theatre | Seattle, Washington
Award-winning guitarist Steve Hackett is bringing his highly-acclaimed live show to North America! This once-in-a-lifetime tour titled, The Steve Hackett Genesis Revisited – Foxtrot at Fifty + Hackett Highlights will celebrate the 50th anniversary of his iconic progressive rock album, Foxtrot, which he released with Genesis in 1972! Hackett's work in this album was pivotal in establishing the band as one of the most influential forces in British rock music! The tour had already made waves across Europe this spring and summer. This fall, it's North America's turn! Steve Hackett and his band are set to conquer over 30 cities in the U.S. and Canada! On Thursday, 9th November 2023, he's scheduled to make a much-awaited stop in Seattle, Washington, for one-night of rock and roll featuring songs from Foxtrot, as well as his other career-spanning hits! Witness this fantastic live show performed by the illustrious Rock and Roll Hall of Famer at the Moore Theatre by securing your tickets now! Don't waste any time because this show is bound to be jam-packed!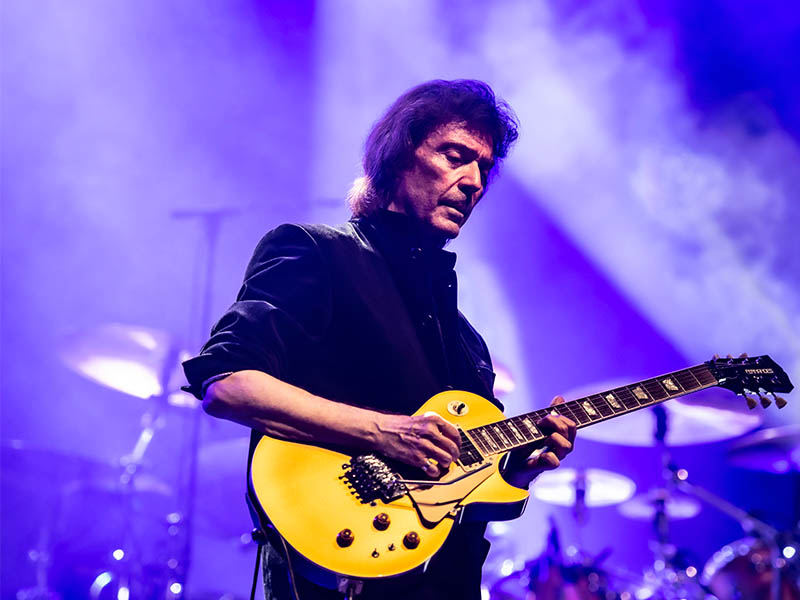 Steve Hackett recently wrapped up one of his most successful solo tours. But due to public demand, the prominent guitarist followed up with a massive 2023 outing to celebrate one of the most iconic rock albums in the U.K. The Steve Hackett Genesis Revisited – Foxtrot at Fifty + Hackett Highlights kicked off in Europe in April. Then he performed over 30 shows across the continent and ended the tour with an incredible finale at the Summer Fog Festival in Poland. This fall, Hackett and his band will bring this highly-acclaimed outing to North America at the beginning of October.
In a statement, Hackett explained the significance of his 1972 album, Foxtrot, which he released with Genesis. "I think Foxtrot was a terrific achievement for Genesis at that time. There is not one weak track on the album, they all have their strong points, and I'm really looking forward to doing the whole album live." Foxtrot was Genesis' first album to enter the U.K. chart. The progressive rock effort spawned several fan favorites, including the sci-fi-themed "Watcher of the Skies" and "Get 'Em Out By Friday." The album also contains other notable tracks, including the epic 23-minute track "Supper's Ready," which until now is a concert favorite.
According to Hackett, at the time Foxtrot was released, the band was on the brink of becoming one of the most recognized rock bands in the U.K. "We were a young, struggling band at that time. By the time we were doing 'Foxtrot,' the band was becoming more ambitious. Foxtrot is a must for fans of the early Genesis work. Fifty years ago? It doesn't feel like those ideas are fifty years old because they was-genre defining rather than following trends. It still sounds current, now."
Steve Hackett is currently one of the most prominent solo guitarists and prolific live performers in the U.K. He emerged in 1968 as the guitarist for the legendary rock band Genesis. The band enjoyed commercial success during the '70s and released 15 outstanding studio albums, including Foxtrot, in 1972. In 2010, the band, together with Hackett, was inducted into the Rock and Roll Hall of Fame.
Aside from performing with Genesis, Hackett also released numerous solo albums. In 1975, he dropped his debut effort, Voyage of the Acolyte. He moved on to release a total of 27 albums, many of which entered the U.K. and international charts.
Catch Steve Hackett this fall by securing tickets to his show at the Moore Theatre on Thursday, 9th November 2023! Experience The Steve Hackett Genesis Revisited – Foxtrot at Fifty + Hackett Highlights by clicking on the Get Tickets link now!