Moore Theatre | Seattle, Washington
It's time to 'come together right now, because the sensational Seattle Rock Orchestra is bringing its Mother's Day Beatles weekend shows back to Moore Theatre on May 13th and 14th. The orchestra, or the rockers rather, for this show are performing Abbey Road & Let It Be for this Mother's Day Beatles tribute show! So, call your mom, dad, and the rest of the family for a rockin' night with the legendary band's greatest records reimagined live on stage by the one and only Seattle Rock Orchestra on May 14th of 2023. Make sure you get those good seats by booking your tickets now!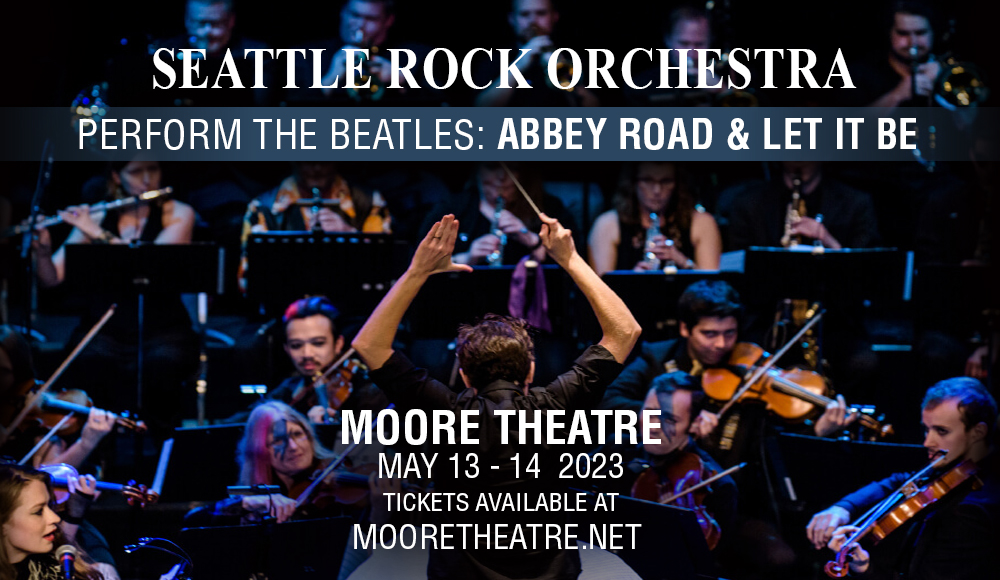 The Seattle Rock Orchestra is continuing its long tradition of annual Beatles Tribute shows at The Moore Theatre on Mother's Day weekend. This year, the orchestra is reimagining the acclaimed greatest last two records of the band, Abbey Road and Let It Be. Highly regarded for their innovation, experimentation, lyrical tales, and studio technique, the two records have become highly acclaimed by both fans and critics. With music that lives on for generations to come, Seattle Band Orchestra is part of the movement of serving these classic legendary hits for all generations.
For the perfect Mother's Day celebration, take mom on a night that'll get her off her feet like it's the 1970s! The whole family can enjoy the records' beloved tracks including "Across The Universe", "Come Together", "Get Back", "Let It Be", "Something", and "Oh! Darling". The show concludes with 'The Long One', or what others might know as the famous Abbey Road 16-minute medley.
Delighting the ears of mom and dad who lived through the 70s, The Beatles' music, especially Abbey Road and Let It Be which have been widely regarded as their best, made its way to become a generational blessing, passed on to every year to come. With The Beatle's astounding instrumentalization, lyrics, and melodies, get ready for showstopping performances as Seattle Rock Orchestra reimagines the catalog with their strings, brass, woodwinds, percussions, and alluring vocalists who'll deliver a Beatles-filled Mother's Day to remember.
Founded by bassist and composer Scott Teske in 2008, and with Music Director and Conductor Kim Roy joining in 2010, Seattle Rock Orchestra has found its unique and astounding musical style and arrangements, delivering critically-acclaimed shows over the past decade.
There's no better way to celebrate Mom's special day by taking her on a special moment to witness The Beatles' Abbey Road and Let It Be spring back to life on stage with the amazing Seattle Rock Orchestra. Book your tickets now!