Moore Theatre - WA | Seattle, Washington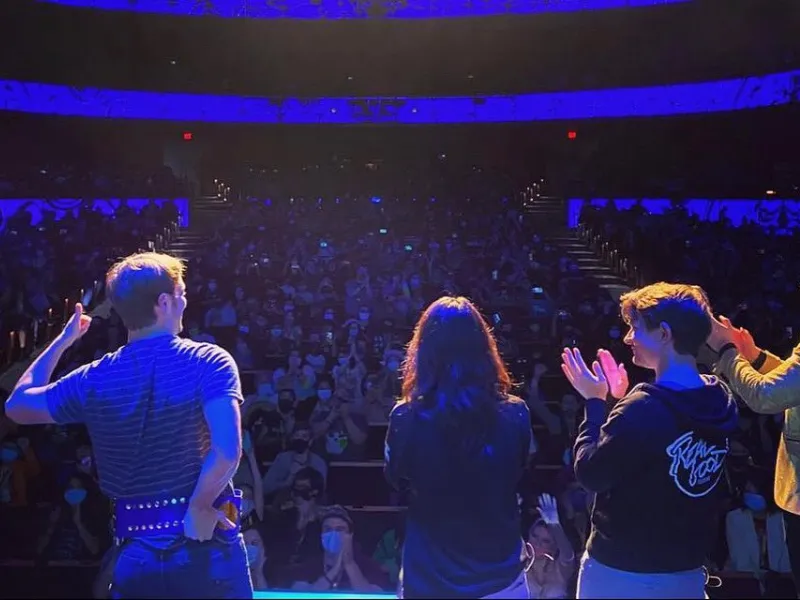 See what gets animated after the wholesome sun goes down this Friday, January 19, as Scribble After Dark opens LIVE at the Moore Theatre! Featuring some of your favorite YouTube animators and host Egoraptor (Arin Hanson), this hysterical clash of content creators will have you giggling in depraved delight. Scribble After Dark is, by all metrics, a NSFW version of the hit improv game show Scribble Showdown, with all the same mechanics but without the PG-13 rules. The contest will pit the players against each other to test how creatively they can animate prompts, including ones from selected audience members. This exhibition will showcase the multi-awarded regulars of the original Showdown, TheOdd1sOut (Robert James Rallison), Jaiden Animations (Jaiden Dittfach), and RubberRoss (Ross Kenry O'Donovan), plus first-timer Domics (Dominic Panganiban)! The tour schedules ten shows to start the year, which includes a visit to the spectacularly staged Moore Theatre in Seattle. Click the button above and get your tickets now!
Come and watch your favorite indie animators battle against each other in a contest you can't watch on your office computer! Scribble After Dark—"Scribble Showdown's older brother who just got out of jail"—is opening the year with ten live exhibitions featuring TheOdd1sOut, Jaiden Animations, RubberRoss, and Domics. The run's second date will be at the Moore Theatre on January 19, presented by Real Good Touring and hosted by the Egoraptor, Arin Hanson!
Scribble After Dark brings back the familiar mechanics of Scribble Showdown, but now leveled up for the 18+ crowd! Players will put their animating improv skills to the test through creative prompts, with twists and tricks and gimmicks straight from the audience!
The game's first contestant, TheOdd1sOut (Robert James Rallison), is a YouTube cartoonist most recently known for creating Netflix's animated adventure-comedy Oddballs. He initially gained a following via Tumblr with his now-iconic "marshmallow people" comics and would later extend to animated videos, gaining over 20 million YouTube subscribers. In 2016, Rallison was nominated in the Animated category at the annual Streamy Awards.
Jaiden Animations (Jaiden Dittfach), meanwhile, is a YouTube animator famous for story-time animations that cover video games such as Pokémon and her personal experiences from relationships to anxiety to body positivity. She has received six nominations at the Streamy Awards, winning one in 2020. Dittfach also frequently collaborates with fellow creators, most notably as a part of the "Animation Squad" alongside TheOdd1sOut and others.
Our third player, RubberRoss (Ross Kenry O'Donovan), is an Australian internet personality who initially found his footing through Newgrounds cartoons. Some of his most well-known projects include the Game Grumps spin-off Steam Train and the Gamer Tonight series. He was nominated Best Art Streamer in the latest Streamer Awards and has voice-acted in popular indie games such as Monster Prom and Shantae and the Seven Sirens.
And finally, we have Domics (Dominic Panganiban), a Filipino-Canadian animator who specializes in anecdotal videos. As his name implies, he started as a webcomic artist before transitioning full-time to his current gig. His animations, often monochromatic, use a vlog format chronicling the artist's day-to-day life and troubles, with his most-viewed video discussing "Crushes."
Game Grumps co-founder Egoraptor (Arin Hanson) will host and push our contestants to the brink of artistic anarchy! Originally known for his Flash cartoons, our host has also delved into web series parodies and video essays such as The Awesome Series and Sequelitis. He has provided voice work in several AAA video game productions as well, including Borderlands 3 and the Final Fantasy VII Remake.
Grab your friends, bring your IDs, but most of all, have an uproariously fun time at the Scribble After Dark LIVE showdown at the Moore Theatre on Friday, January 19! This classical indoor performing arts hall, fitted with high-end seats, lights, and acoustics, also offers a suitably intimate atmosphere for the event, guaranteeing a memorable experience for hoards of fans. Book your seats now!