Moore Theatre - WA | Seattle, Washington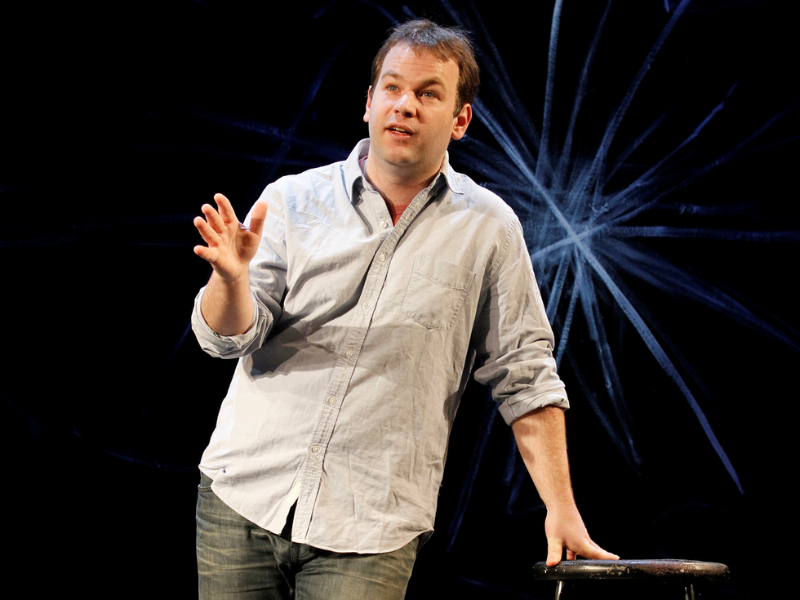 Say his name right, or else Mike Birbiglia is coming for you on January 21, Sunday night, at the Moore Theatre! Many know him from his latest Netflix special, "The New One," from which he won a double-whammy from the Drama Desk and Outer Critics Circle Awards. But more than that, Mike is the next evolution of standup! Straying away from his peers' vulgarity-laden monologues, Mike Birbiglia opts for a family-friendly approach that relies on his wit and unrivaled storytelling skill to send crowds roaring with tearful laughter! Reeling from all the love and support for The Old Man and the Pool UK trip, the critically acclaimed comedian sets up nine shows (so far!) to jumpstart his touring season next year. He has his sights on the Seattle, Washington's Moore Theatre, a 1,800-capacity indoor venue that provides just the right amount of warmth to his patented brand of intimate standup. That "Get Tickets" button above? Click it to book your seats for Mike Birbiglia's LIVE show!
Born from the bins of Olive Garden, alleged Italian Mike Birbiglia rises from the biodegradable depths to grace the Moore Theatre with his presence on January 21!
"I always describe Mike Birbiglia as a great storyteller. Not because his comedy revolves around his actual life experiences, but because it's all woven into a single story… He's absolutely hilarious, and his delivery is impeccable. You can hear the laughs during his pauses, in anticipation of what comes next."
Over two decades in the business have only made Mike Birbiglia's comical wisdom even stronger! Sporting a prodigious knack for storytelling, Birbigs has been whacking audiences from all walks of life with his unforeseeable twists that never fail to coax breathless fits of laughter. And that's not all. Unlike his peers, this comedian's language leans PG-rated, a sure-fire invitation for families to experience one of standup's future legends together.
Mike's still much-active career has scoped the nooks and crannies of entertainment, and it all began with his 2008 one-man show "Sleepwalk With Me." The special, unassuming as it was, spawned a New York Times best-selling book and a Sundance award-winning film of the same name. It all snowballed into further acclaim from there.
Today, he is the lauded creator of Netflix standup comedies "My Girlfriend's Boyfriend," "Thank God for Jokes" and "The New One." Between these three, Mike received several nominations from the Drama Desk, Outer Critics Circle, and Lucille Lortel Awards. Notably, he won Outstanding Solo Performance from the first two for "The New One" in 2019.
High off the MASSIVE success of The Old Man and the Pool Tour, our featured comedian plans a January series of shows with nine announced so far here in North America. He's up for two days in Seattle, Washington, loitering at the top-rated Moore Theatre. Oldest among the city's active theaters, this indoor venue can keep up with the best of them! With a seating capacity of 1,800 and stylish Byzantine-Italianate architecture, it offers an intimate stage that complements the get-together vibe of the traveling artist's shows.
Hurry up and buy your tickets now before he vamooses to Walla Walla! Mike Birbiglia is playing his tour's third and final show at the Moore Theatre this Sunday, January 21, 2024.