Moore Theatre | Seattle, Washington
Join the famous quartet known for their distinctive mix of traditionalism and anarchy, DakhaBrakha. They are touring around the world this year and are excited to be stopping at the Moore Theatre on Wednesday the 15th of March for one of their limited dates in America. Nina Garenetska, Olena Tsibulska, Iryna Kovalenko and Marko Halanevych are the four musicians that make up the group, and love celebrating their Ukrainian culture whilst also blending other cultures and styles to their music. Renowned for their astounding live performances they are a must-see-live band, so grab your chance and book your tickets now!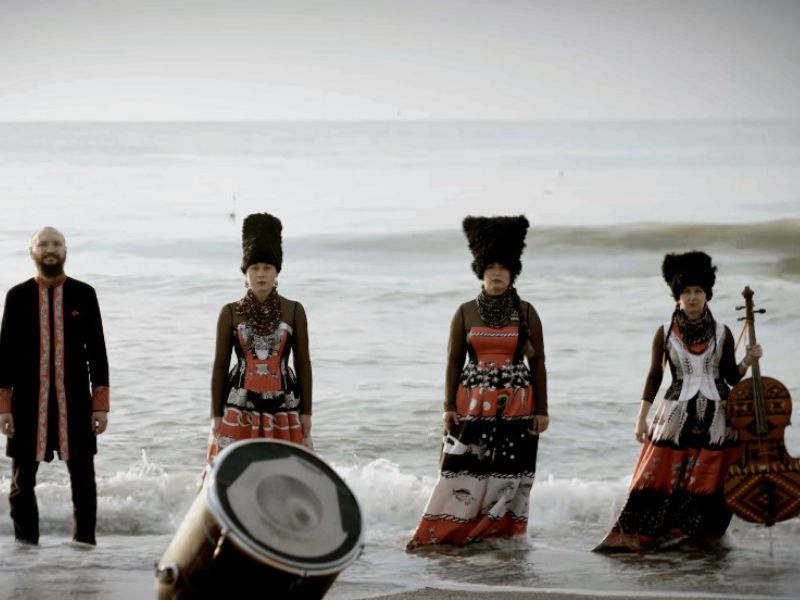 Join DakhaBrakha on their 2023 World Tour as they celebrate their Ukrainian heritage and raise money to help support their country. Created in 2004 the quartet has become a huge name as ethno-fusion artists and are renowned for their live performances that closely link their music with a strong visual element. DakhaBrakha draw a strong influence from traditional Ukrainian folk songs, but experiment and improvise with other instruments and genres of music, such as Indian, Arabic and African, to create a truly unique style that the group dubs 'ethos-chaos'. With their high, wool hats, traditional folk clothes and ability to weave and twine instrumental moments with precision, using instruments such as the darbuka, didgeridoo, piano and cello, they combine the traditionalism of the Ukrainian folk music, but add a fresh, unforgettable edge. Yet it is their vocals, which are wonderfully skilled, that sets the group apart from other Eastern European groups, creating a mesmerizing blend of layered harmonies, ghostly whistles, wails and rowdy birdcalls. It will be a truly unforgettable, unique live music experience. Their dates whilst in the USA are limited and in high demand, so make sure you book your tickets and join DakhaBrakha for their 2023 World Tour.