Moore Theatre | Seattle, Washington
Experience something utterly unique with A Thousand Thoughts: Kronos Quartet, which comes to Moore Theatre on Thursday 23rd April 2020. Written and directed by Oscar-nominated filmmakers Sam Green and Joe Bini, A Thousand Thoughts is a live film documentary that premiered at the Sundance Film Festival in 2018, and is an immersive multimedia performance that fuses live music and narration with archival footage and filmed interviews, for a magical experience!
"In A Thousand Thoughts, the music is the story," wrote Slate's Sam Adams of its premiere last year. "The ideas that normally underlay the quartet's music are moved to the front, existing in counterpoint with the music itself … Watching it was the most joyous experience you could have at Sundance this year …"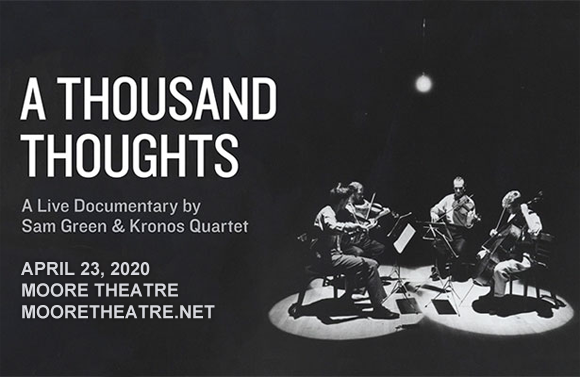 Founded by violinist David Harrington in Seattle, Washington in 1973, Kronos Quartet is an American string quartet that is currently based in San Francisco. For the past four decades, the group has consisted of a revolving membership of musicians, and has covered a wide variety of genres, including Mexican folk, experimental, pre-classical early music, movie soundtracks (Requiem for a Dream, Heat, The Fountain), jazz and tango. Kronos Quartet has also collaborated with a huge variety of notable artists across many disciplines over the years, including: Allen Ginsberg, Astor Piazzolla, The National, the Modern Jazz Quartet, Tom Waits, David Bowie, Paul McCartney and Björk, and has recorded with Nelly Furtado, Rokia Traoré, Joan Armatrading, Brazilian electronica artist Amon Tobin, Texas yodeler Don Walser, Faith No More, Tiger Lillies and David Grisman.