Moore Theatre | Seattle, Washington
Get ready to giggle, laugh, and sing out loud as "The Unfortunate Return of the Ridiculously Self-Indulgent, Ill-Advised Vanity Tour" is coming your way, led by the one and only Weird Al Yankovic. He's the extraordinary fellow behind your favorite parodies of classic and timeless hits such as Michael Jackson's "Beat It" turned into "Eat It", or Nirvana's "Smells Like Teen Spirit" turned into "Smells Like Nirvana". The tour is stopping by at Moore Theatre on Wednesday, 29th of June 2022, inviting you to come and burst out in laughter as Weird Al takes you back across decades of hits re-imagined the best way possible. It's a night of unforgettable parodies and polka medleys led by Weird Al. Book your tickets now!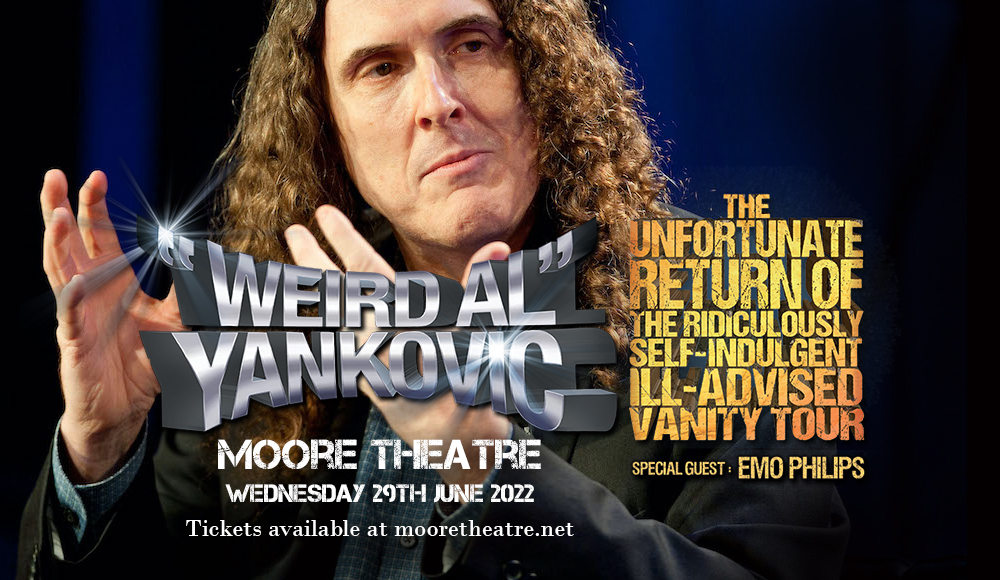 Rising high up from the 80s, Weird Al Yankovic established himself to be a highly renowned comedian in the music scene, making waves of laughter, even gaining praise from notable artists who found their songs having a signature Weird Al rendition. He amassed several Grammy nominations and won five Grammy Awards including one for "Best Comedy Recording" and two for "Best Comedy Album".
Weird Al never fails to impress audiences with his hilarious comical parodies and classic medleys as he belts high notes up above as the crowd laughs, cheers, and begs for more. "There's enough people that do unfunny music" he says. He's got a powerful voice with the great power to induce joy and laughter to listeners around the globe.
From his debut single "My Bologna", a parody of The Knack's "My Sharona", Weird Al amassed a great following and positive attention from artists he makes parodies for, owing to his success and career to Dr. Demento.
His hit parodies include "Eat It" and "Fat", from Michael Jackson's "Beat It" and "Bad" respectively, "Like a Surgeon", a parody of Madonna's "Like a Virgin" which she explicitly mentioned to a friend wondering when Weird Al would make a parody of her hit song. Another hit crowd-favorite is "Smells Like Nirvana" where the band expressed they felt like they "made it" when their song was given a signature Weird Al parody at the same time the single revived his career at the time.
Other crowd favorite hits include "Jurassic Park", "Bedrock Anthem", and the certified-platinum single "White & Nerdy" – a parody of Chamillionaire's "Ridin'" to which the artist owed the success of the song leading it to win a Grammy Award to Weird Al.
"I've loved doing every single incarnation of my live show," says Weird Al. Every show is unique, full of high energy, and loud laughter as the man takes the crowd through decades of classic hits uniquely re-imagined the best way possible.
"…I've been dying to get back out there and torture everybody with it once again!" says Weird Al. So, don't miss out on this chance to hop on a wild ride through decades of music and laughter led by the one and only Weird Al Yankovic live on stage. Book your tickets now!