Moore Theatre | Seattle, Washington
Anime and lifestyle podcast Trash Taste is coming to the Moore Theatre on Saturday, 29th October 2022! The live podcast event, featuring three Tokyo-based content creators, JoeyTheAnimeMan, CDawgVA, and Gigguk, is part of an extensive 22-city tour across North America! The podcast has become one of the most popular shows online, garnering millions of streams and views per day across major platforms. Get the latest news on anime, Japanese culture, and life in Tokyo in general as the hosts share topics, ideas, and hilarious stories! If you love Trash Taste, grab your tickets now for the chance to experience the show live at the Moore Theatre!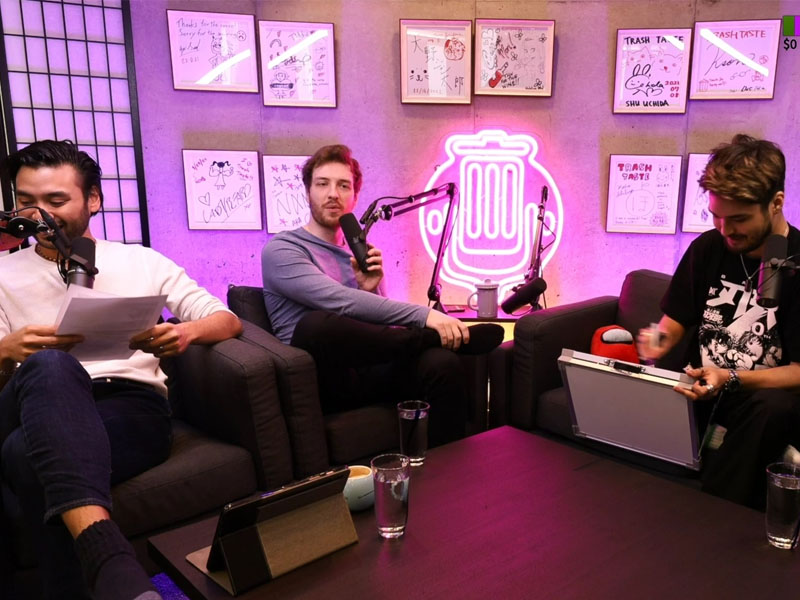 Trash Taste began in 2020 after three content creators moved to Tokyo to fully experience anime and Japanese culture. The show is hosted by Joey Bizinger (TheAnimeMan), Connor Marc Colquhoun (CDawgVA), and Garnt Maneetaph (Gigguk). Together, the hosts have a combined approximately nine million Youtube subscribers. Trash Taste has become one of the fastest-growing and most popular podcasts, with 1.35 million subscribers on Youtube and amassing almost half a billion views.
The trio hilariously delves into topics such as life in Japan and otaku (anime, videos, games) culture. Moreover, the top-rated show has featured various guests, including Chris Broad, Geno Samuel, Akidearest, Daidus, among others. Depending on the themes, the episodes vary from one to three hours. The shows are broken up into parts with sponsor mentions in between. Furthermore, listeners can hear discussions, rants, comedy, and more.
Each host has his unique personality. The pizza crust-loathing Maneetaph likes to have a satirical view of anime and gives honest reviews. Meanwhile, Bizinger, who has a cynical sense of humor, takes time to review, analyze, and critique every anime he watches. Lastly, Colquhoun would do anything and everything for his viewers, even if it costs his self-dignity.
This fall, Bizinger, Colquhoun, and Maneetaph are coming over to North America to hold their first extensive tour! Tickets to see Trash Taste up close and personal at the Moore Theater are now available!