Moore Theatre | Seattle, Washington
Come for the music and stay for the humorous banter of The Milk Carton Kids this Friday, October 21, at Moore Theatre as the Grammy-nominated folk duo brings their 2022 tour to Seattle. Be entertained as Kenneth Pattengale and Joey Ryan perform their neo-traditional folk hits, such as "Michigan," "I'll Be Gone," "Younger Years," and "The Ash & Clay," among many others. Let their songs' minimalist and intimate lyricism make you smile and soothe your soul. Together with rising folk musician Katie Pruitt, the award-winning duo will give one of the most heartfelt performances at the famous Seattle venue. Secure your tickets now by hitting the "Get Tickets" link. See you there!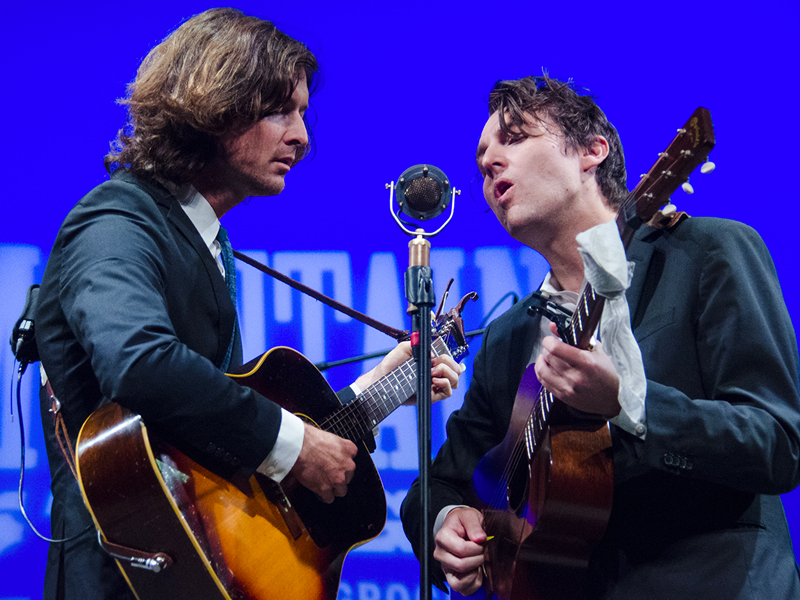 The Milk Carton Kids was the musical endeavor of duo Kenneth Pattengale and Joey Ryan, which they formed in 2011. The two gave up their solo careers and, in turn, delved into their collaborations of harmonized vocals and acoustic guitars.
They became established indie folk musicians when their debut studio album "Prologue" came out in 2011, which the San Francisco Chronicles called "bittersweet and beautiful." The following years, they spent touring, performing alongside bands such as the Old Crow Medicine Show and the Lumineers. They returned to the studio in 2013 and released "The Ash & Clay," promoted through the American live music television series "Austin City Limits." Later, they were nominated for the Best Folk Album in the Grammy Awards and won the Group of the Year category at the Americana Music Awards. The subsequent albums, "Monterey" (2015) and All the Things That I Did and All the Things That I Didn't Do (2018), were critically acclaimed. Rolling Stone called the first one a "beautifully realised folk recording" and praised the second one for showing the vulnerability of their experiences, with Ryan becoming a father for the second time and Pattengale overcoming cancer.
The duo is praised for their showmanship and ability to catch people's attention with their heartfelt songs while on stage. That is why their live performances are always a must-see. If you want to see them live, they will perform at the Moore Theatre in Seattle, Washington, on Friday, October 21. Kattie Pruitt will be their opening act. She is a rising folk musician known for winning the 2017 Songwriters Hall of Fame's Buddy Holly Prize.