Moore Theatre - WA | Seattle, Washington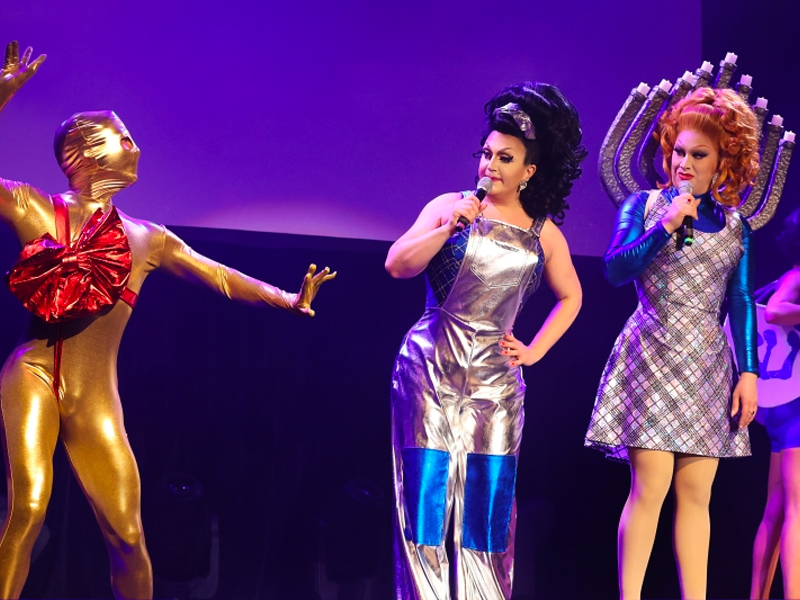 The spicy Jinkx Monsoon and sugary BenDeLaCreme are teaming up once again this holiday season for their annual Christmas show that has swept the drag world by storm. That's right! The Jinkx & DeLa Holiday Show is back this Christmas season to give you all the glitz, glam, and comedy gold that only these drag superstars can offer. As part of their four-night show in Seattle, Washington, Jinkx and DeLa will kick off their show on December 21 at the Moore Theatre. If you want to spice up your holidays away from the usual somber Christmas choirs, this is the show for you. The pair is known to be all-out in their performances through their top-notch lip-synchs, elaborate costumes, hilarious parodies and impersonations, and, of course, whip-smart comedy. If your friends want to celebrate the holidays peacefully and quietly, seeing this show with them is not a good idea. Because wherever Jinkx and DeLa are, it's going to be rowdy, fun, and EXTRA! So be sure to get your tickets today to get a taste of all the fun and excitement come December 21. Get your tickets now!
Jinkx Monsoon and BenDeLaCreme have been serving comedy gold together with their tours and shows these past few years. The Seattle queens have found a way to blend perfectly through charisma, uniqueness, nerve, and talent. Like their other shows, their "Jinkx & DeLa Holiday Show" is a top-tier show you need to see. The Holiday season would be filled with drag queen comedy, catchy tunes, and a sprinkle of glitz and glam. Tis' the season to be merry and silly.
If you have been watching RuPaul's Drag Race for a long time, you have probably heard of Jinkx Monsoon and BenDeLaCreme. As a refresher, both were the queens of comedy of their seasons. Jinkx tested all legendary queens of Season 5 and won. She would win again when she competed in All-Stars 7, the All-Winners season. DeLa appeared on the show the season after Jinkx. She was top 5 and competed in All-Stars 3. During their original seasons, they both won their snatch game, wherein Jinkx impersonated Little Idie from the Grey Gardens, and DeLa was Professor McGonagall, the great Dame herself, Maggie Smith. To the eyes of the fans, the two queens are among the funniest RuGirls. They have built a reputation and were memorable because of their stints. They continue to be popular because of their enduring comedic personas.
But before they became legendary queens of the popular drag show, they became friends in Seattle. As a matter of fact, Jinkx pushed DeLa to compete. After their run, they barely run into each other because of separate gigs and busy schedules. They reconnected after the buzz settled down, and they became inseparable.
Years into performing together, they realized that they did not have a gig during the Christmas season. They had nothing to do. Motivated and inspired to perform during the Holidays, the Jinkx and Dela Holiday show was conceived. Working with their best attributes, they turned it into a musical. It is a success and has become their yearly touring tradition.
If you want to experience top-tier comedy and see legendary drag icons. Look no further. See the Jinkx and DeLa show as they come to jingle and rock at the Moore Theatre on December 21. See you there!