Moore Theatre | Seattle, Washington
The ultimate Beatles tribute act to exits is coming back on a tour that'll take you back in time like it's the 60s! The Fab Four – The Ultimate Tribute is hitting the stage at Moore Theatre on Saturday, February 18th of 2023. The Emmy Award-winning tribute act has served audiences from all around the world a one-of-a-kind Beatles tribute experience like no other. With their great attention to detail that mimics the original band's costumes, mannerisms, and aura, The Fab Four is critically-acclaimed as one of the best carbon copies of The Beatles to exist. So, get ready for the ultimate Beatles experience like it's the 60s with The Fab Four by booking your tickets now!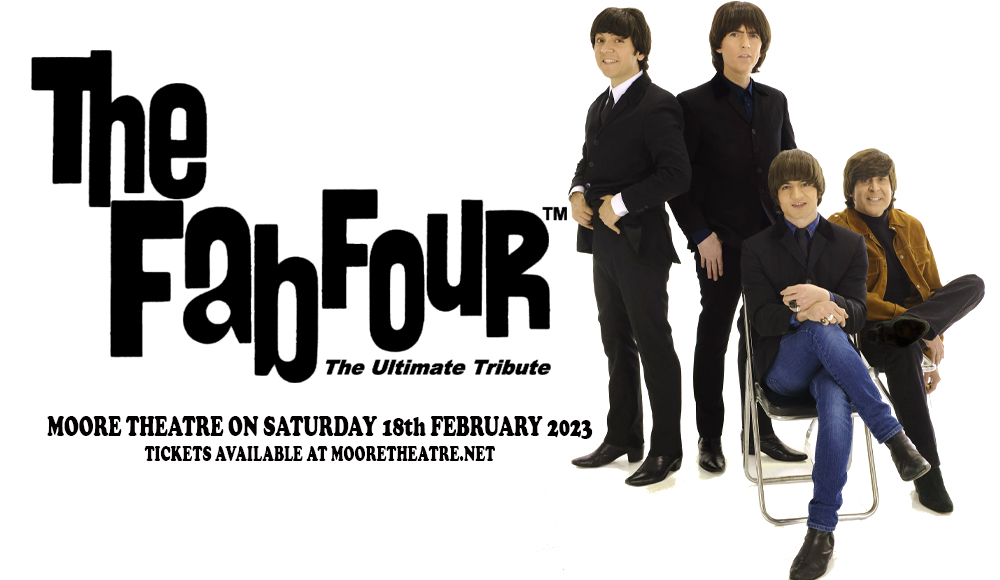 Paying homage to one of the world's most legendary bands to exist, The Fab Four strives to bring audiences the closest to an authentic Beatles live show experience like it's the 1960s! More than just covering the iconic band's legendary catalog of hits, The Fab Four replicates the live Beatles experience like no other. From replicas of the boys' alluring costumes to their very own mannerisms. Attention to the very little details is what makes a Fab Four show the ultimate tribute band that is highly deserving of their Emmy Award.
As the premier Beatles tribute act that has taken audiences across the globe back to the good 'ol days, you can expect The Fab Four to perform The Beatles' hits and fan favorites in a pitch-perfect manner – with iconic costume changes and every little mannerism of the original boys. Live renditions of their biggest hits like "Here Comes The Sun", "Let It Be", "Hey Jude", "Yesterday", "Come Together", and so many more can be expected from The Ultimate Tribute.
Critically-acclaimed for their carbon-copy spectacles of a Beatles show, The Fab Four has amazed audiences from several countries including Japan, France, Australia, The United Kingdom, Germany, and so on.
With an uncanny resemblance – physical-wise and vocal-wise, The Fab Four is definitely the ultimate Beatles tribute! So, don't miss out on The Ultimate Tribute live at Moore Theatre this coming February 18th by booking your tickets now!