Moore Theatre | Seattle, Washington
It's time to 'come together as Seattle Rock Orchestra brings back its long tradition of Mother's Day weekend shows, performing a Beatles tribute. 2023's Mother's Day weekend on May 13th and 14th will be greeted by an orchestra tribute to The Beatles' legendary records "Abbey Road" and "Let It Be" which features show-stopping performances of the band's hits including "Get Back", "Come Together", "Let It Be", and concluding the show with Abbey Road's highly acclaimed 16-minute medley. Don't miss out on this special show at Moore Theatre on Saturday, 13th of May 2023. So, grab your mom, dad, and the whole family for a magical show with SRO by booking your tickets now!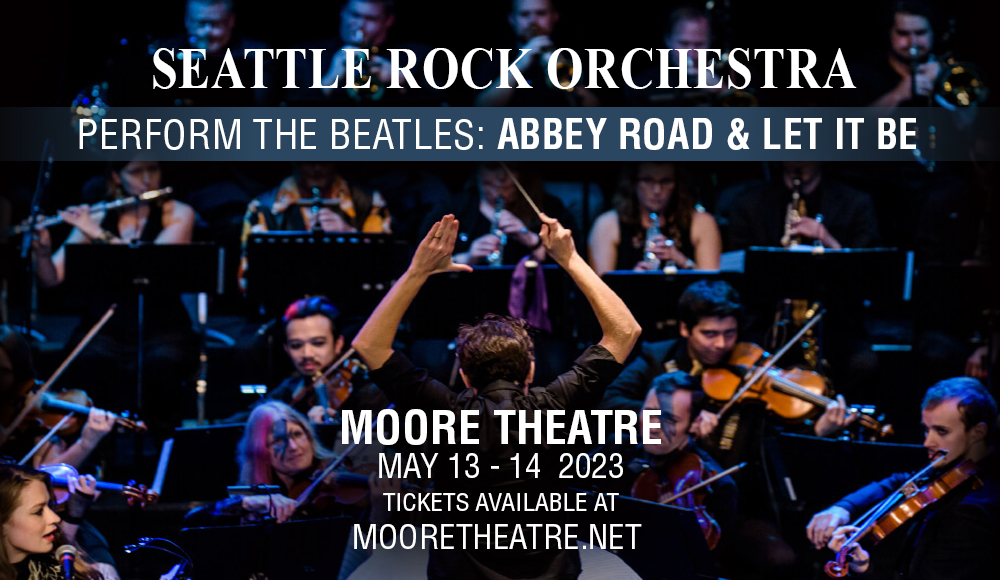 This coming Mother's Day, it's time to call your mom, dad, and even the kids to 'come together and get yourself on a magical symphony of legendary hits as Seattle Rock Orchestra brings back their long tradition of Beatles shows during the Mother's Day weekend. This set features what is highly-regarded as The Beatles' greatest body of work – Abbey Road and Let It Be.
Audiences can expect to see SRO rock it out to The Beatles' legendary hits "Let It Be", "Come Together", "Get Back", "Across The Universe", "Something", "Oh! Darling!", and concluding it all with 'The Long One' or the famous Abbey Road sixteen-minute medley.
Abbey Road and Let It Be are the last two records The Beatles produced – and are highly acclaimed as their best. The two records highlight The Beatles' studio genius, incorporating sounds and symphonies that delight the ears of every generation to this date.
Seattle Rock Orchestra isn't your typical orchestra, they're an orchestra who rocks it all out! Utilizing strings, brass, woodwinds, percussions, and alluring vocalists who all deliver astounding show-stopping performances, SRO has proved to be one of the most sought-for show-stoppers in the scene. They've collaborated with the likes of DRAM, Macklemore, Elvis Costello, and members of Pearl Jam, R.E.M., and much more.
Founded by bassist and composer Scott Teske in 2008, and Music director and Conductor Kim Roy hopping in 2010, SRO started building its unique musical style in delivering orchestra shows.
With their annual tradition of Mother's Day Beatles shows, you can't miss out on the legendary band's two greatest records, Abbey Road and Let It Be, spring to life in a wide array of symphonies live on stage at Moore Theatre this coming May 13th. Book your tickets now!