Moore Theatre | Seattle, Washington
Canadian indie-pop favorite Peach Pit is coming back for their upcoming North American tour this fall. They're coming right down the streets of Seattle to perform live on stage at Moore Theatre on Monday, 28th of November 2022. The tour named "Right Down The Street" is promised to be bigger and better than their past shows, getting fans hyped up to catch them perform their best indie-pop bops! Get ready to 'look out! as Peach Pit comes rushing right down the street to meet you at Moore Theatre. Book your tickets now!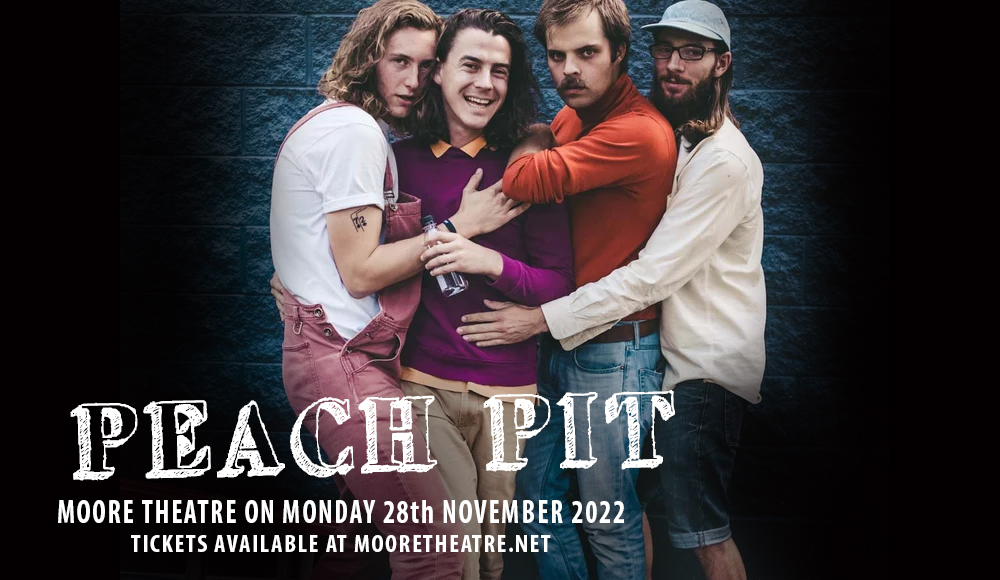 Since 2016, Peach Pit members Neil Smith, Mikey Pascuzzi, Peter Wilton, and Christopher Vanderkooy have dropped much-loved indie-pop tracks that speak volumes along the lines of love and loss that take listeners on a journey of a love once lost – and found. With fan-favorite tracks like "Seventeen", "Drop the Guillotine", "Look Out!", and "Up Granville", fans are in for a lyrical and melodic ride with Peach Pit.
What started out as a project among high school friends turned into a full-on indie sensation with a growing fanbase as they continue dropping lyrical charms that listeners could relate to. Their first EP, Sweet FA, caught the attention of the indie rock scene for its hazy youth and unrequited love-driven tracks with the tones of soft rock. This EP featured their tracks "Seventeen" and "Drop the Guillotine".
In 2017, Peach Pit released their debut full-length album Being So Normal featuring their hit single "Alrighty Aphrodite" peaking at No. 37 on the Billboard Canada Rock chart for a span of fifteen weeks. The critically-acclaimed record featured dreamy pop tones with tracks that exude ethereal vibes.
In 2020 and 2022, Peach Pit dropped their follow-up records, "You and Your Friends" and "From 2 to 3" respectively. These albums featured their singles "Feelin' Low (F*ckboy Blues)", "Shampoo Bottles", "Black Licorice", "Up Granville", "Look Out!", and "Vickie".
"Peach pit land firmly on solid ground while they dreamscape their way through everyday euphoria and serene serenades on their third full length album. Full of ex-lovers, post-party hangouts and dusky summer vibes — From 2 to 3 is a solid indie-pop album." said Crickmay from Northern Transmissions in a review of Peach Pit's "From 2 to 3".
With a new record and a solid roster of indie-pop bops that fans have been so attached to, Peach Pit is set to serve a bigger and better tour as they hit the road for their "Right Down The Street" North American Fall tour.
"We're stoked to get back out there on the road again, it's what we love best!" said Neil Smith. "The shows and fans on our recent US tour were incredible, so we're excited to revisit some of these markets in bigger rooms. The show will be bigger and better than ever before. Will there be lasers? Will Mikey crowd surf? You'll only find out if you get a ticket."
So, what are you waiting for? Grab those tickets now!