Moore Theatre | Seattle, Washington
Are you ready for Emily Haines's high-energy performance this Wednesday night, October 12, at the Moore Theater? Join her and the rest of her band, Metric, as they bring their "The Doomscroller Tour" to Seattle, Washington. Let loose and be wild as you immerse yourself in their introspective and danceable downtempo music with driving drum beats that will make you scream in excitement. Be enthralled by hearing Haines's distinctive, airy soprano as she sings their signature songs, such as "Breathing Underwater," "Gold Guns Girls," "Black Sheep," "Dead Disco," and their newest single, "All Comes Crashing." This is going to be an exciting concert, so don't you dare miss it. Hit the "Get Tickets" button to secure your tickets as early as today!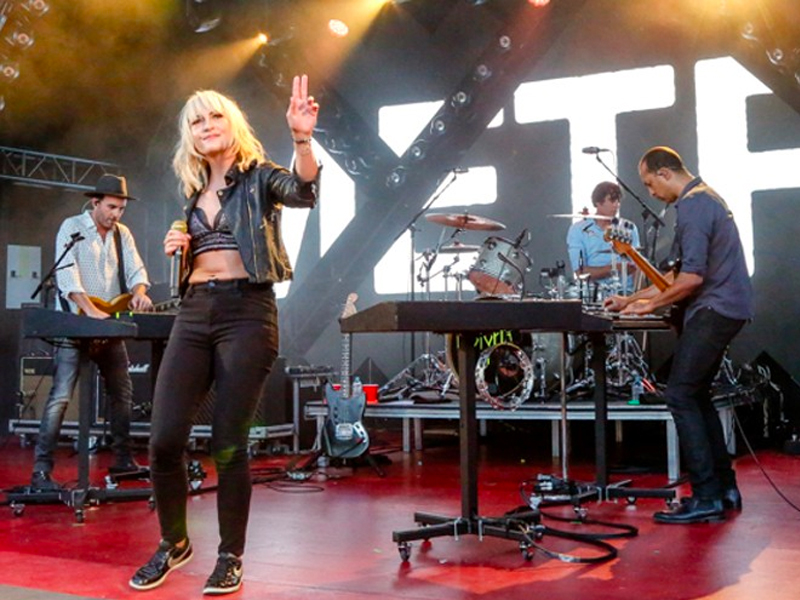 As one of the most creative bands in the indie-rock music scene, Metric has gained widespread popularity through its distinct and unique sound. The band is known for layering catchy melodies and edgy lyrics that are brought to life through the distinctive, airy voice of their vocalist, Emily Haines.
Throughout their career, the band was able to release eight (8) studio albums. Their 2006 album "Live It Out" earned the Toronto-based band their first Juno nomination for "Alternative Album of the Year." Although they did not win the coveted award, the album's popularity cemented their place in North America's rock music scene. They won their first Juno in 2009 for the "Group of the Year," and this would be immediately followed in 2013 with three wins, out of five nominations, including "Alternative Album of the Year" for their career-defining album "Synthetica."
This year, the band will be hitting the road on a North American headline tour, "The Doomscroller Tour." The Canadian champs have partnered with PLUS1 so that $1 per ticket goes to support the War Child organization. War Child works to empower children and families in communities affected by war throughout the world.
"One of the high points of 2022 for us has been working on putting everything together for The Doomscroller Tour," states Emily Haines. "We're crafting a setlist based on fan favorites, including deep cuts from Live it Out & Old World, and it's been wild to see how the new songs from Formentera flow with the classics from Fantasies & Synthetica. I'm really happy with the venues we chose, they suit the lighting and sonics and the whole mood of the show we're crafting. I want Metric fans to have the best concert experience possible and feel like they got to escape into another reality with us for the evening. Can't wait to get this show on the road!" Haines exclaimed with excitement.
Moore Theatre will surely be a haven of great songs and goosebumps-inducing stage theatrics. Be sure to witness this phenomenal concert this October 12, Wednesday night. Mark your calendars and secure your tickets as early as today! Click on the "Get Tickets" link for a fast and secure transaction.