Moore Theatre - WA | Seattle, Washington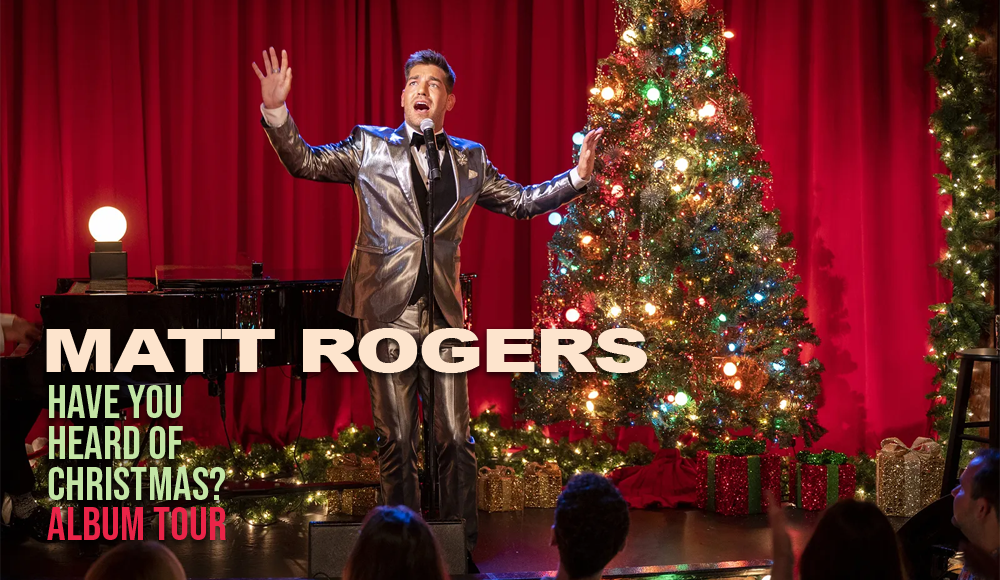 The one and only "Pop Prince of Christmas" is coming to you live! Matt Rogers and Capitol Records just announced the quirky lad's yuletide pop album "Have You Heard Of Christmas?", hitting airwaves real soon. Following up last year's holiday comedy-musical special, the 12-track extravaganza will include a couple of songs from last year's Showtime special alongside new collaborations and big surprises. Not convinced? Well, he just released a steaming hot and silly new single "Also It's Christmas," featuring Zane Philips in his daring music video. In celebration of the yuletide season, the man's kicking off a 12-date "Have You Heard Of Christmas?" Album Tour, marking a special stop at Moore Theatre on Tuesday, December 19. Last year's musical extravaganza was hailed as one of the year's best comedy specials. This time around, Rogers is bound to serve bigger surprises, live on stage. Don't miss out by booking your tickets now!
Giving the holidays an early ring with a steaming new video featuring The Old Gays, slayin' comedian Matt Rogers is set to release his newest holiday album "Have You Heard Of Christmas?" this November. Following the grand release of his musical extravaganza, the Pop Prince of Christmas is embarking on a 12-date holiday tour in support of his new record. As a follow-up to last year's Showtime special of the same name, he's creating new and bigger surprises as the hilarious musical special gets its own studio treatment. It'll feature a couple of favorite bangers alongside new collaborations and big surprises.
Releasing his newest music video for "Also It's Christmas", the steamin' holiday track is a perfect match to his daring scenes with Fire Island co-star Zane Philips. Set in a gay club, Rogers preps himself up for one heck of a holiday one-night stand, only to get busted up by the family for a yuletide celebration.
In a conversation with Nylon, Rogers shares how he believes that Christmas is the horniest holiday of the year. "It's like two months of edging," he explains. "The day is pretty orgasmic if you think about it. There is the giving, the receiving; there is exchange; there is the color red. I think in the beginning of time when they designed Christmas, they really knew what they were doing, and they were doing horny stuff."
That's definitely an interesting perspective, we must say. Beyond the spontaneity and comedic aspect of his craft, Rogers' musical bangers ooze of real emotion. It's funny, relatable, and something you can definitely feel. The New York Times notes that his 2022 holiday special "straddles lines between holiday album spoof and dead serious homage, ironic schmaltz and genuine emotion—stands out for its commitment to sultry-to-the-point-of-silly songs."
Folks, Matt Rogers is out here serving slayin' holiday tracks filled with bare-bones honesty. In this season of giving, he unfailingly serves. We sure can't wait for what the album has in store for the gays. "I just wanted to say something that was truthful to me, and I'm very horny all year round, but I just had to bring that to Christmas," he told Nylon.
So, get your hottest Christmas outfits ready for a steamin' musical extravaganza led by Matt Rogers. Book your tickets now.