Moore Theatre | Seattle, Washington
Experience Mary Shelley's Frankenstein as you've never seen it before! A magical, captivating and award-winning experience, Manual Cinema comes to Moore Theatre on Wednesday 1st April 2020, bringing puppetry, cinema, live music and a range of multi-disciplinary arts together to create a truly breathaking show! Manual Cinema's unique take on this classic gothic horror combines the tale itself with fragments of Shelley's own life to creat something utterly unique and unforgettable!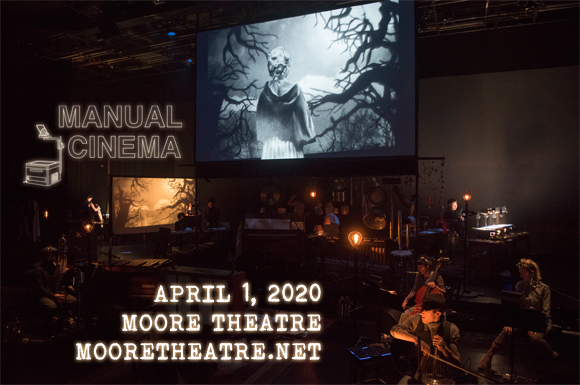 Founded in 2010 by Drew Dir, Sarah Fornace, Ben Kauffman, Julia Miller and Kyle Vegter, Manual Cinema is a performance collective, design studio, and film/ video production company that creates immersive visual experiences through the mediums of handmade shadow puppetry, cinematic techniques, and innovative sound and music. Manual Cinema has created nine feature length live cinematic shadow puppet shows to date, as well as a live cinematic contemporary dance show, an original site-specific installation, an original adaptation of Hansel & Gretel created for the Belgian Royal Opera, several music videos, a live non-fiction piece for Pop-Up Magazine, a self-produced short film, a museum exhibit, a collection of cinematic shorts and live cinematic puppet adaptations of existing stories, as well as award-winning work across other mediums.