Moore Theatre | Seattle, Washington
Fans of comedy must see Kathleen Madigan on her new tour titled Boxed Wine and Tiny Banjos when it stops over at the Moore Theatre on Saturday, December 2, 2023. Her incredible witty humor will leave you in stitches as you howl with laughter at her very relatable stories. Her unique perspective on everyday life experiences as well as current events is truly spectacular. Her ability to connect with audiences with impeccable comedic delivery is unsurpassed in the industry today, and that combined with her legion of devoted followers will see the very few tickets that are available sell out at a ridiculously fast rate. Luckily, you've come to the best place to secure your seat; all you have to do is click on the "GET TICKETS" button and follow some really simple check-out instructions. There is no reason to delay, so get it done right now and be ready for the funniest night of your life.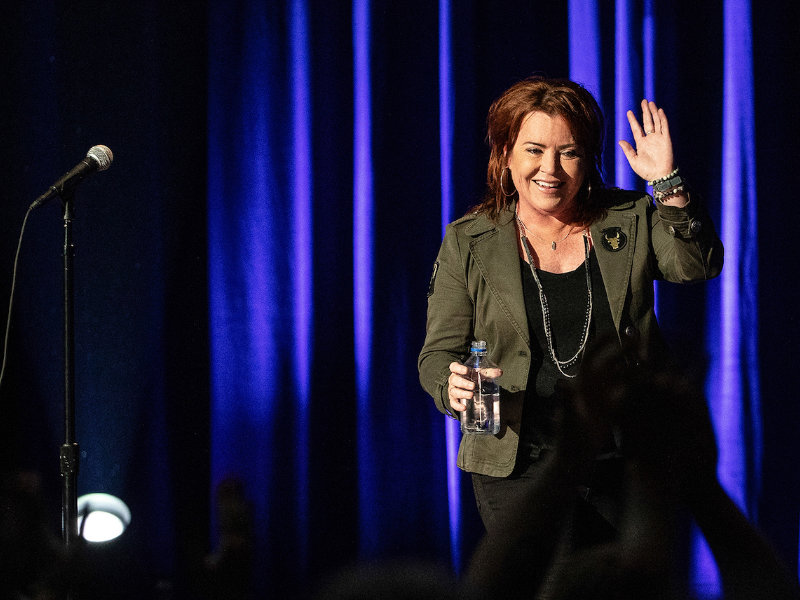 Kathleen Madigan has to be one of the hardest working people in comedy, being known for doing 250 nights a year on the road, and she still manages to impress audiences with her incredible charisma and charm.
Originally from St. Louis, Missouri, Kathleen Madigan was born and raised in an Irish Catholic family. She was a dedicated athlete, having played basketball, volleyball, and track. Her career spans over 32 years and started with her father encouraging her to take part in open mic nights at comedy clubs in the St. Louis area. Her break came when The Funny Bone, a chain of comedy clubs, gave her a thirty-week booking. With that, she quit her day job and focused on comedy instead, where she perfected the ability to design and deliver a joke with excellent precision.
This comedic genius soon became a regular guest on TV talk shows such as The Tonight Show with Jay Leno. With fame such fame came many different opportunities to display her phenomenal talent, such as she was featured on the Last Comic Standing and Celebrity Poker Showdown as well as on Jerry Seinfeld's Netflix show "Comedians in Cars Getting Coffee."
With the pandemic shutting down the whole world, Kathleen started her very own podcast called Madigan's Pubcast, featuring conversations about everything and anything she finds fun to talk about. With light conversations, ranging from sports, documentaries, and unsolved mysteries. It has steadily gained a strong following thanks to her unique humor and delivery.
Some of the other notable things she has achieved thus far are receiving the Phyllis Diller Award and the American Comedy Award for "Best Female Comedian" and being a supporter and fundraiser for both autism and cystic fibrosis.
Now on tour, you can expect Madigan to keep you well entertained, as her observational humor and wit have been praised by critics and audiences alike. Her ability to connect with audiences is unmatched, and she has a knack for finding humor in everyday situations that everyone can relate to. This is definitely going to be a seriously fun night out, so be sure to secure your place right here and now before it is too late.