Moore Theatre | Seattle, Washington
Powerhouse drag queens Jinkx Monsoon and BenDeLaCreme are set to throw the gayest holiday season yet at The Jinkx & DeLa Holiday Show! Catch them jingle those bells, singing brand new songs and serving their signature whip-smart comedy that'll get you laughing your socks off as you celebrate the Christmas season. The dynamic duo is hailed as "The Queens of Christmas" by Entertainment Weekly, never failing to amaze and entertain audiences at their live shows. The 22-city show run is making a stop at Moore Theatre on Thursday, 22nd of December 2022. So, you better watch out… you better not cry… I'm telling you why! 'Cause you gotta book those tickets now for the Jinx and DeLa Holiday Show!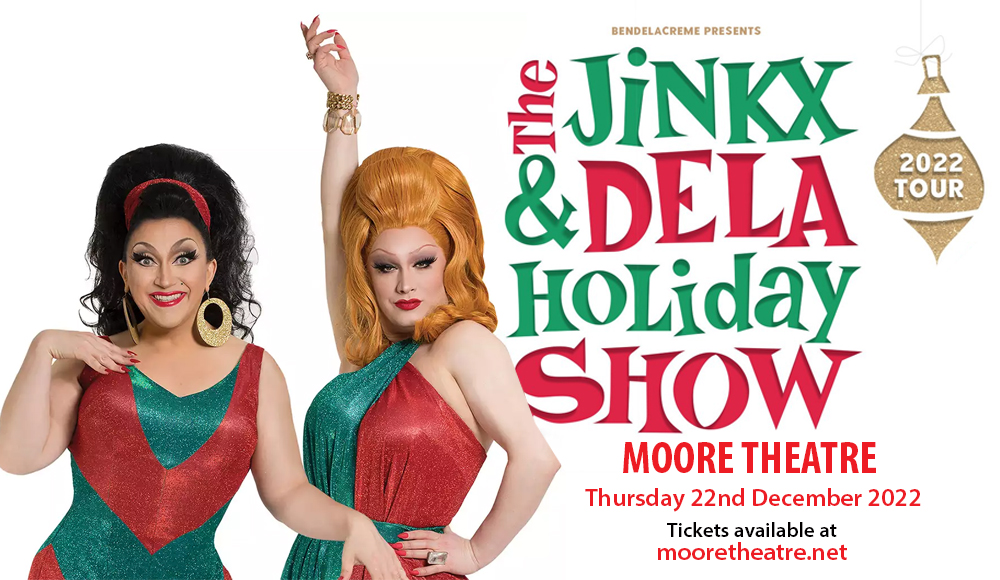 The gays' holiday seasons wouldn't be complete without show-stopping performances by the iconic drag duo Jinkx Monsoon and BenDeLaCreme, who'll jingle your holiday bells! The drag queens are finally coming back to the road on The Jinkx & DeLa Holiday Show on a 22-city trek – including a stop at Moore Theatre on December 22nd. The duo promises new songs and tons of laughter at the gayest holiday season to come.
"We strive for entertainment while always proving that the holidays are for you to celebrate however you want to," shared BenDeLaCreme.
"Nothing makes me feel more connected to the good in the world than the seas of people we get to celebrate the season with night after night — laughing, cheering, and being in our feelings together," added Jinkx. "I'm so lucky to get to experience that each year, and I hope you all will experience it with us."
There's no better way to celebrate the holiday season with plenty of laughs and a crowd who all together celebrates their true selves in this special season of joy and love. "The one thing that always remains the same is that our show is about the importance of friendship, chosen family, and creating our own holiday traditions," DeLa shared.
"We want to give our audiences a place to go that can be reliably fun, exciting, and bring something new to their season in addition to comfort and familiarity. Every year we take an honest look at ourselves and the world around us, and create new material that reflects back our common experience. We want people to feel entertained and seen!"
Rising from RuPaul's Drag Race, the iconic duo has won the hearts of audiences around the world. They're taking their bursting energy, whip-smart comedy, and hilariously crafted songs to the stage at The Jinkx & DeLa Holiday Show for everyone to enjoy and celebrate. The New York Times says that the two queens are "sure to lift your spirits and make you howl with laughter."
The show is written and produced by Jinkx and DeLa themselves, so fans can expect a holiday show like no other – crafted true to the iconic duo's hearts. "Writing and performing as a combo is the best way for us to express what drives us as artists and as humans and fortunately, on top of that, people just happen to think we're very funny," DeLa shared.
Tickets are up for grabs! Don't miss out on the gayest holiday season with the one and only Jinkx and DeLa at The Jinkx & DeLa Holiday Show by booking your tickets now!