Moore Theatre - Seattle | Seattle, WA
MMMBop! Only the 90s kids would know whatever that means, but multi-generations of fans know that a power-pop band of brothers spawned this global smash hit. It's been twenty-five years since, yet Hanson continues to give audiences reasons to bop till they drop as they carry on making music and performing on live concert stages around the world. Hanson is at it again! As they unleash their latest "Red Green Blue" album, a world tour bearing the same title has been officially announced. Hanson's "Red Green Blue" tour is slated to raise the curtains of the Moore Theatre on Saturday 27th August 2022. Book your tickets the quick and easy way. Click on that 'Get Tickets' link right here, right now!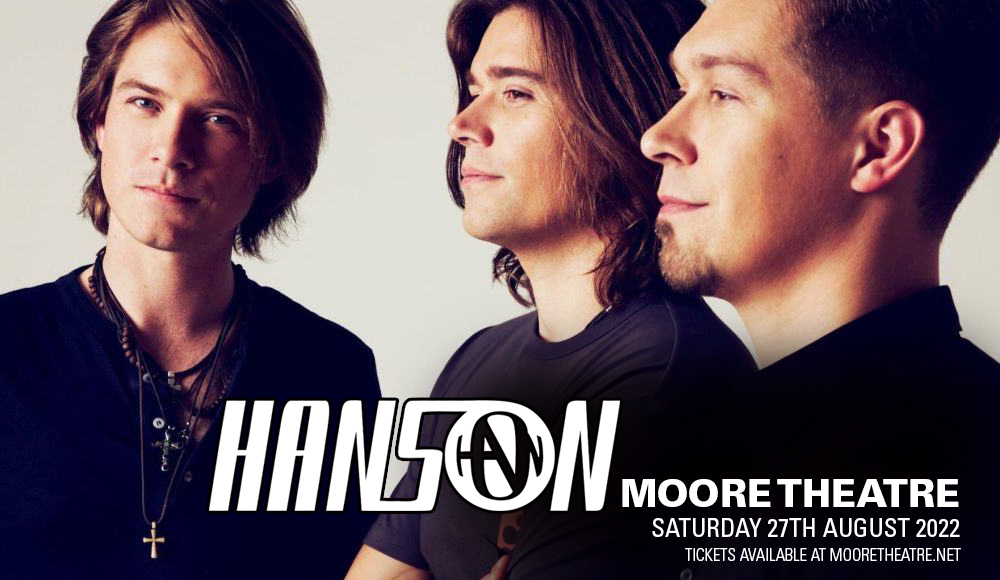 As the 90s rolled out with angst-ridden grunge music, three grungy kids, ages eleven, nine, and six, came from out of nowhere and gave the world a sunny vibe with the infectious strains of a ditty called "MMMBop". Brothers Isaac Hanson (guitar, vocals, bass, piano), Taylor Hanson (keyboards, vocals, percussion), and Zac Hanson (drums, vocals, piano), hailing from Tulsa, Oklahoma, released their debut album "Middle of Nowhere", featuring the lead single "MMMBop", topped the charts everywhere – the #1 single in 27 countries simultaneously, with the album selling 10 million copies worldwide. The band was nominated for three Grammy Awards in 1998: Record of the Year, Best New Artist, and Best Pop Performance by a Duo or Group with Vocal. Zac, being only 12 years old at that time, is the sixth-youngest Grammy nominee of all time. He holds the title of youngest songwriter nominated for a Grammy Award (same year) too. To date, Hanson has sold over 16 million albums from their releases of seven studio albums, two Christmas albums, and five live releases.
Now, the Hanson brothers are all-grown-up men but very much musicians and concert artists by heart. They shook the world with other phenomenal hit singles such as "Weird", "Save Me", "I Will Come To You", "Thinking of You", "Penny and Me" and a whole lot more. "Red Green Blue" is their latest outing which brings together the band's three unique creative voices like never before with a third of the album written and produced by each brother (Taylor's Red, Isaac's Green, and Zac's Blue).
Hanson at Moore Theatre on Saturday 27th August 2022 – lock it in now!