Moore Theatre - WA | Seattle, Washington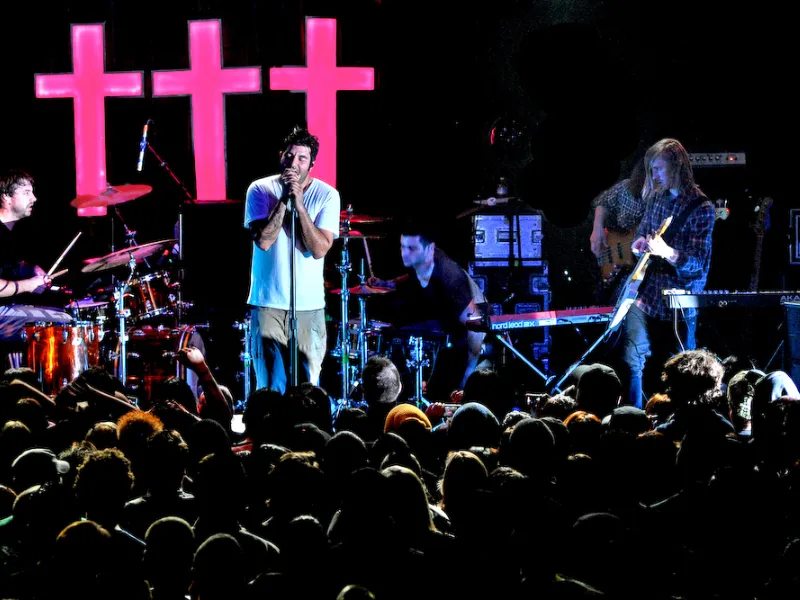 The cross turned metal will dawn on the city of Emerald! Alternative metal band Crosses (†††) will make the world familiar as they launched their Familiar World Tour, having its stop at Moore Theatre, Seattle on Monday, March 11, 2024. The duo consisting of Chino Moreno of Deftones and Shaun Lopez of Far will turn the stage on sight as their combination of musicality and talent brings the fans to its feet. Known for their hit songs Vivien, Invisible Hand, Bitches Brew, Sensation, and Ghost Ride, Crosses will be on notice to bring the metal experience to the metalheads of Seattle. Now, with their latest album Goodnight, God Bless, I Love U, Delete, Crosses is on the run as they blessed the old and young fans with their newest music. Catch this metal-heavy experience as the Crosses will take care of the rest of your priceless night. Mark the dates and grab your tickets now!
Get ready for a rhythmic-slapping metal gig as the Crosses (†††) turned up the heat for their Familiar World Tour on Monday, March 11, 2024, at Moore Theatre, Seattle. The band featuring Chino Moreno (of Deftones) and Shaun Lopez (of Far) will double-up the metal experience as they conquer the Seattle center stage for a night of banging and jamming on Crosses' hits.
Chino Moreno is known as the lyricist and lead vocalist of the iconic band Deftones that had its time in the late 80's as one of the best alternative metal bands of their time. Shaun Lopez is also a famous body in the rock scene as a music producer, composer, and musician that served as the founding member and guitarist of the band Far. Together, they built a band that has a different sound with its dark pop and electronic sounds.
"I didn't want people to think we are a religious band, a satanic band or that we are a witch-house band. It's difficult using a religious symbol, but at the same time, I think in an artistic way, it can totally go somewhere else, and I think we are kind of walking that line", Chino Moreno said in an interview.
Started as a musical project in Los Angeles, California, Crosses was built by Chino Moreno and Shaun Lopez with Chuck Doom in 2011. With its premiere members from the renowned band Deftones that is one of the prominent alternative metal bands of the century and far that make its impact on underground rock music, Crosses makes their way to the public as they record bunches of songs and music that eventually the fans will love. This includes their Debut EPs, self-titled releases, and debut album in 2011-2014. In 2023, Crosses released their second full length album Goodnight, God Bless, I Love U, Delete with a major label Warner that garnered 139 spots as its highest peak position in US charts.
"This is a statement. All the songs were sequenced and the title track, which is the last song on the record, it is sort of like it felt very cohesive and like a solid piece of work", Chino Moreno said about their newest album Goodnight, God Bless, I Love U, Delete.
Moore Theatre will house the Crosses (†††) that can accommodate 2,436 metalheads that want to experience the heaven-crossing performance of the band. With its grand exterior and interior designs, great concert productions, and its cultural connection to the city, it is the perfect venue for a Crosses event everyone wants to see. Grab your tickets now!