Moore Theatre | Seattle, Washington
Girl, put your records on, tell me your favorite Corinne Bailey Rae song! You can now go ahead, let your hair down and sing your heart out when Corinne Bailey Rae hits the stage of the Moore Theatre on Sunday 17th July 2022. Acclaimed by audiences and critics alike as one of the most talented artists of modern soul and R&B, Corinne Bailey Rae made fans from all around the world put their records on with her fabulous chart-topping hits 'Put Your Records On' and 'Like A Star'. Corinne Bailey Rae is all set to shine like a star on stage again with her SUNLIGHT / SUNLIGHT! Tour, marking her first solo U.S. headlining tour run in more than five years. Let this amazing songstress illuminate your mood and give you an evening of nothing but soul-good music. No need to go far to check out tickets. The 'get tickets' link on this site is your easy access to save your seat and book tickets now!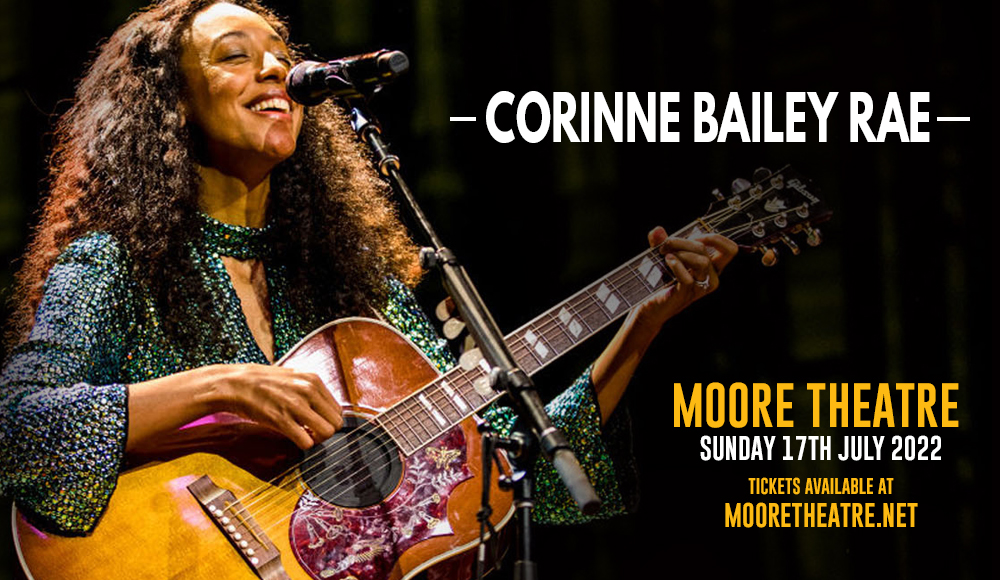 Corinne Bailey Rae was predicted to be 'the next big thing', the breakthrough act of 2006; and they got it right. As she sang "Put Your Records On", the world was at her command. That massive hit single spun its way to the top of the charts, and in February 2006, Corinne Bailey Rae became the fourth female British act in history to have her first album debut at number one. Soon afterward, Bailey Rae was reaping awards and nominations too. She was nominated for three Grammy Awards and three Brit Awards, and won two MOBO Awards. In 2008, she won a Grammy Award for Album of the Year (for her work as a featured artist in Herbie Hancock's River: The Joni Letters).
With over 5 million albums sold to her name, Corinne Bailey Rae fans have never stopped putting her records on, beloved all around the world for her strikingly beautiful and soulful music.
Catch Corinne Bailey Rae doing the rounds of the concert circuit with her SUNLIGHT / SUNLIGHT! Tour. Tickets are available right here, right now!