Moore Theatre | Seattle, Washington
We Can't Make This Stuff Up! Get ready to pack your bags and make it in time for class as the Bored Teachers embark on their very own Comedy Tour, taking a field trip at Moore Theatre on Saturday, 15th of July 2023. The sensational TikTok educators are taking comedy-gold stories and antics to the live stage on a new and bigger run of their very own Comedy Tour. By helping educators find joy and laughter amidst the stress that comes with the important profession, Bored Teachers provides an escape from the chaos, through hilarious stories and tales that make it out of the classroom. Don't miss out on the Bored Teachers Comedy Tour by booking your tickets now!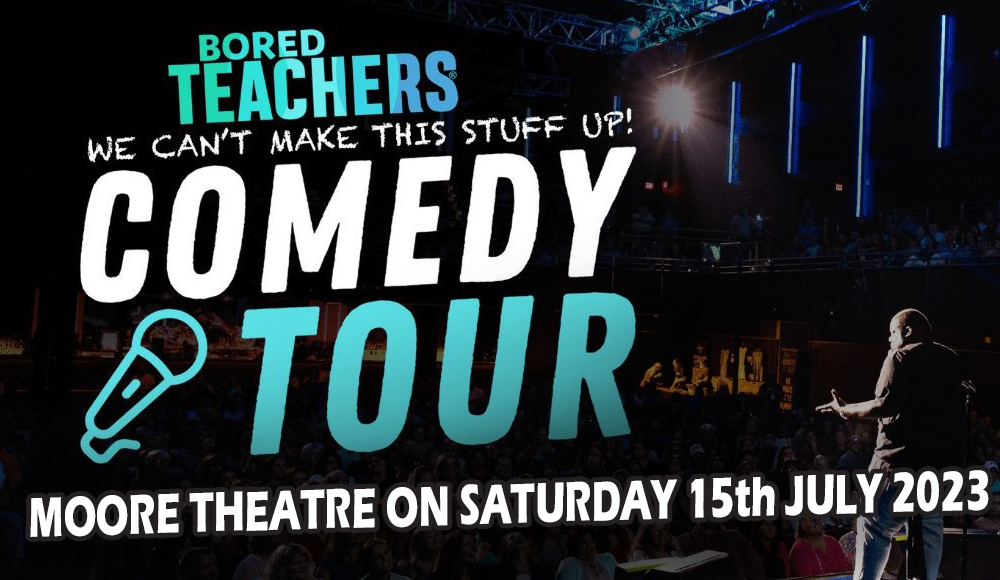 What started as a random TikTok initiative to bring out-of-this-world and comedy-gold stories from the classroom, Bored Teachers became a movement of educators to uplift fellow teachers to find light and joy amidst the everyday struggles of chaos and stress in the daily grind. "No teacher is ever bored!", Bored Teachers exclaims. It's part of our sarcasm and sense of humor. Take a look around our content, you'll see what we mean!".
After a successful tour run in 2022, performing over 80 shows, Bored Teachers is back for a big national tour comeback, set to stage at over 150 shows in this year's run. As another school year comes rushing in, Bored Teachers is set to bring the fun and amusement of hilarious classroom tales to the big stage.
"I just wanted to thank you for consistently bringing a smile to my face," a review by Jen D. shared on the Bored Teachers website. "On the difficult days, your posts make me feel like I'm not alone. Your jokes are hilarious and spot-on!. Thank you so much"
Amassing a massive following across social media pages, with over 4.5 million followers across TikTok, Facebook, and Instagram, and viewed over twenty-million times for their viral comedy tales, Bored Teachers' first run of the Comedy Tour was a massive hit.
"The best comedy show I've ever been to. No lie!", a review on their website said. "We NEED this. Every teacher needs a laugh like this!" said another.
The tour's second installment will bring in some of the nation's most hilarious and acclaimed teacher-comedians in the industry, with a combined following of millions across social media.
So, don't miss out on great laughs and hilarious classroom tales at Bored Teachers Comedy Tour by booking your tickets now!