Moore Theatre | Seattle, Washington
The devastating and fabulous tour-de-force that is Bianca Del Rio comes to Moore Theatre on Wednesday 20th November 2019 on her It's Jester Joke Tour! The Queen of Mean is back, and this time she's bringing North America's biggest and most ambitious solo drag tour to the stage, celebrating her standing as one of the world's top drag performers!
A fine split between offence and actual brilliance – and Bianca treads it perfectly
– GAY TIMES
Prepare to have your sides split.
– ATTITUDE MAGAZINE
On point and hilarious
– HUFFINGTON POST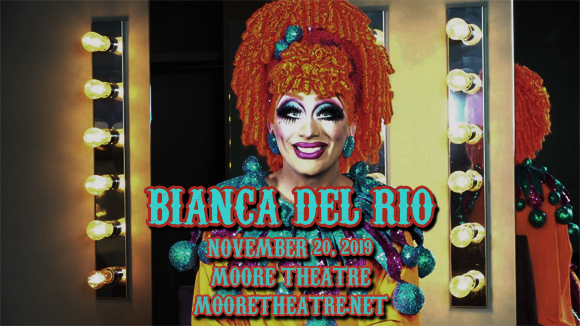 American actor, drag queen, insult comedian, and costume designer Bianca Del Rio (aka Roy Havelock) came to international prominence after winning season six of Ru Paul's Drag Race in 2013, becoming the first ever Hispanic Drag Race winner in the process. First performing in drag in the 1996 play Pageant, Havelock originated Bianca in the New Orleans gay nightclub Oz, and went on to win New Orleans Gay Entertainer of the Year three times. Havelock moved to New York City in the aftermath of Hurricane Katrina and performed weekly as Bianca in a variety of New York clubs, often with fellow drag artist Lady Bunny. Gay.com's 2010 web series Queens of Drag featured Bianca Del Rio, bringing her to an even wider audience. Post Drag Race, Del Rio has starred in two independent films (2013's Hurricane Bianca and its 2018 sequel Hurricane Bianca: From Russia With Hate) and has has written and toured several stand-up shows, including The Rolodex of Hate (2014), Not Today Satan (2015–16), Blame It On Bianca Del Rio (2017–2018) and her most recent tour, It's Jester Joke (2019).