Moore Theatre - WA | Seattle, Washington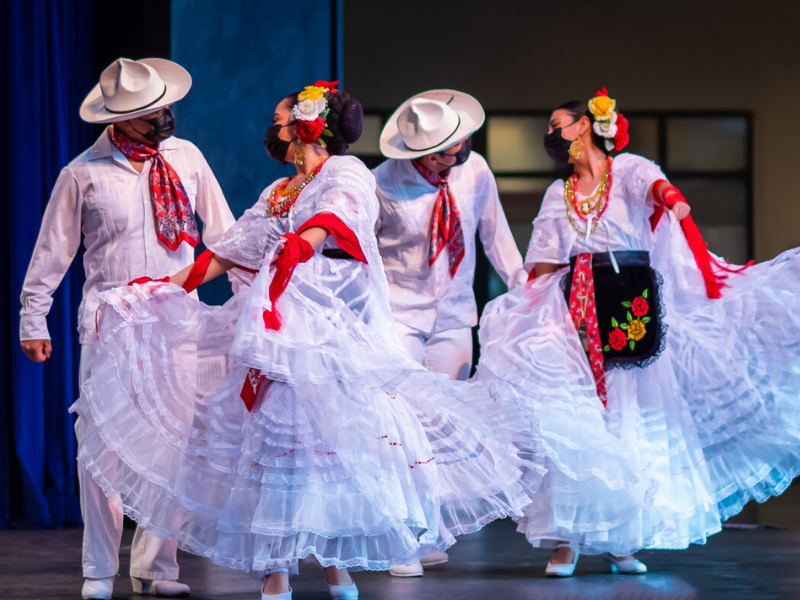 The Seattle Theatre Group is thrilled and honored to present Bailadores de Bronce in its 50th Anniversary celebration on Wednesday, October 25, at the Moore Theatre! Featuring its NEWEST generation of talents, the troupe will showcase the divergent forms of Mexican folk dance from the northernmost state of Nuevo León to the sprawling south of the Yucatán Peninsula. Under the leadership of Executive Director Adrian Olivas and Head Instructor Christina Olivas, their dancers claim the stage with costumes as vividly bodacious as their steps. Bailadores de Bronce continues to share and preserve Hispanic cultural arts, a decades-spanning effort recognized in 2012 with a Governor's Heritage Arts Award. This historic event–sponsored by Sea Mar, Pattison General Contractor, and Joyería Esmeralda–will take place in downtown Seattle's Moore Theatre. Take part in the Bailadores de Bronces semicentennial this coming October. Book your tickets now, and happy Hispanic Heritage Month!
Take a step. Swing, stomp, heel-toe! Bailadores de Bronce is commemorating 50 joyous years of prancing fervor this October 25 at the Moore Theatre. Presented by the Seattle Theatre Group, the local ballet folklórico troupe will once again send audiences on a colorful journey through the many dance traditions of Mexico.
This semi-centennial celebration brings forth the NEW generation of the Pacific Northwest's most passionate folk dance company! From northern Nuevo León to the southern Yucatán Peninsula, Bailadores de Bronce will showcase the exuberant styles of cities, including Zacatecas, Jalisco, and Veracruz. Mexican folk dance portrays a DIVERSE range of composed movement that often draws inspiration from regional myths and fables. And, of course, you can't do without the deliciously vibrant wardrobes that match their equally flashy moves!
Founded in 1972, the troupe began as a collaborative project between students at the University of Washington led by Josefina Jaramillo Alvarez. Its goal then, as it is now, was the prideful expression of Mexico's cultural legacy through dance and music. With special thanks to Executive Director Adrian Olivas and Head Instructor Christina Olivas, Bailadores de Bronce continues to flourish through the guidance of its board members—efforts that earned the organization a 2012 Governor's Heritage Arts Award from the Washington State government.
Jessie Garcia, President
Maggie Fonseca, Vice President
Adrian Olivas, Executive Director
Jessica Rohwer, Secretary
Christina Olivas, Wardrobe
Carlos Alaniz
Cecilia Ortiz-Boyer
Bárbara Deane
Cecilia De La Cruz
Dave Vazquez
Rosa Ramirez
Kamala Squires-Henry
Amber Tafoya
Advisory Board Members:
Carlos Gil
Carlos Gil, Jr.
Cecilia Contreras
Dolores Hooks
Estevan Muñoz-Howard
Jesus Rodriguez
"Every state in Mexico has its own style of dance. It has its own dresses, its own music, its own certain steps. When people see us dance, they see a part of Mexico," dancer Sarah Ramirez said.
"For example, my grandma, or my aunts, or my mom, when they see me, they always end up crying because it's something they left behind. They remember their childhood, and they remember all of the happy times."
Sponsored by Sea Mar, Pattison General Contractor, and Joyería Esmeralda, the event will be held at the Moore Theatre in Seattle, Washington. As the city's oldest active theater, the 1,800-capacity performing arts venue offers a warm atmosphere steeped in history, not to mention an intimately lit backdrop with clear sightlines from spacious rows of deluxe seats.
Come join the Bailadores de Bronce 50th Anniversary festivities on Wednesday, October 25, 2023. The event offers both matinee and evening tickets at the Moore Theatre, so make sure you book what works best for you!