Moore Theatre | Seattle, Washington
Get ready for the fall, with AWOLNATION and their Falling Forward Tour with Badflower and The Mysterines coming to Moore Theatre on Friday, November 18th 2022. Awolnation are falling, and "Run"ning, or maybe "Sail"ing off on a sweet new tour, and along with Badflower, they both have brand-new albums out and have not had a chance to play them live, so, grab your tickets, put on your space helmets and let's go rock! "Are you Falling Forward with us? Hope we'll see you this fall on tour (finally)!" Awolnation said at the tour announcement.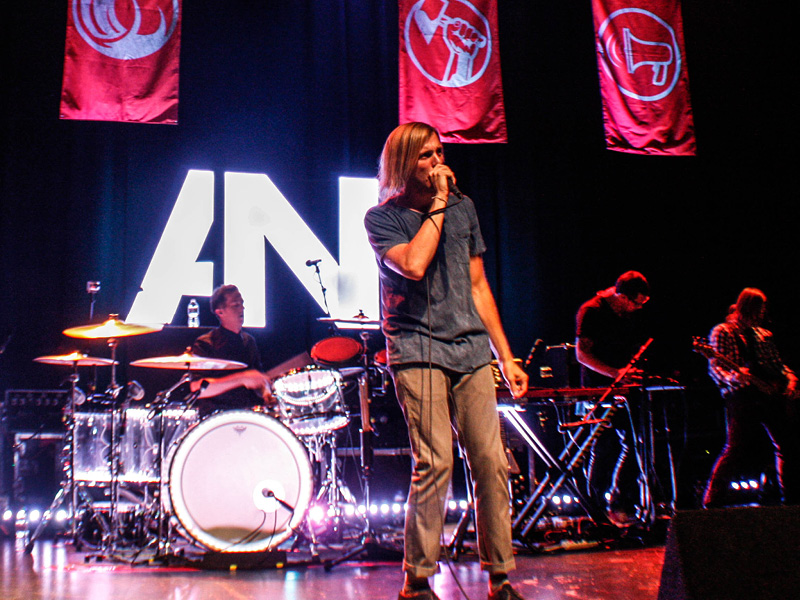 My Echo, My Shadow, My Covers and Me, is the brand-new album from Awolnation, released with the first single in January 2022, it features collaborations from Beck, Tim McIlrath of Rise Against, Brandon Boyd of Incubus, grouplove, Taylor Hanson, Hyro the Hero, Jewel, Midland, Elohim, Nothing But Thieves and Portugal the Man. The band formed in Los Angeles, CA, way back in 2009 by lead singer and guitarist Aaron Bruno, along with lead guitarist and singer Zach Irons, bassist Josh Moreau, keyboardist Daniel Saslow, and drummer Isaac Carpenter. They released their first studio album, Megalithic Symphony, in March 2011, featuring the huge hit single, "Sail", which peaked at number 17 on the Billboard Hot 100, number 4 on the Billboard Rock Songs chart, and number 5 on the Billboard Alternative Songs charts.
This Is How the World Ends, is the latest album from Badflower, coming out in September 2021 the album peaked at number 20 on the Hard Rock Chart, number 9 on the Heatseekers chart, and was elected by Loudwire as the 38th Best Rock or Metal Album of 2021. The band formed in Los Angeles, California in 2008 and is made up of singer and guitarist Josh Katz, lead guitarist Joey Morrow, bass guitarist Alex Espiritu and drummer Anthony Sonetti.
The Mysterines started off in 2017 and is currently made up of singer and guitarist Lia Metcalfe, bassist George Favager, guitarist Callum Thompson, and drummer Paul Crilly. Their debut album, Reeling, came out in March 2022.